Minelab is preparing a new product 2017 – Minelab PRO-SONIC wireless headphones. Versatile, for any metal detector. Work on a 'from transmitter to receiver with wired headphones' principle. Is that the novelty you are expecting from Minelab?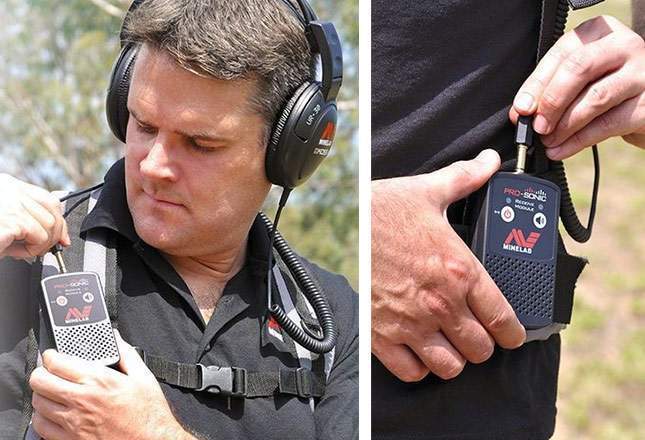 As explained by the manufacturer (this new product hasn't gone on sale yet), a Minelab PRO-SONIC adapter transmits a clear and fast audio signal using advanced wireless technologies. This will make it very easy for you to adjust the sound without tangled headphone cables.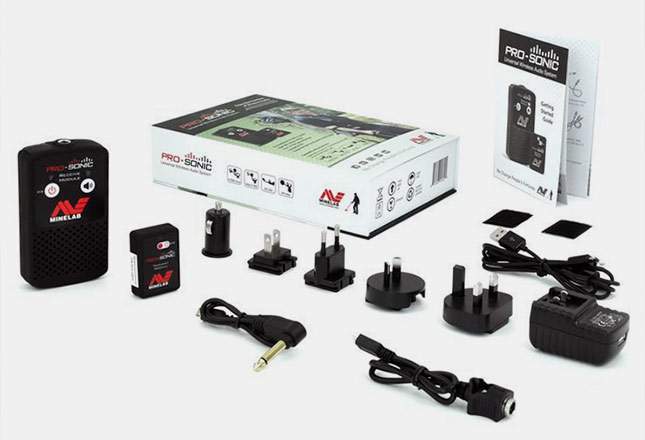 Note that a Minelab PRO-SONIC wireless adapter has a built-in speaker and a 6.35 headphone socket. According to the manufacturer, the headphones should now be plugged not into the detector's control box, but into the PRO-SONIC module. The latter itself can be attached to clothing using a special clip or by placing it into a breast pocket. A transmitting module is mounted on your metal detector (and is plugged into the headphone socket).
Minelab PRO-SONIC features:
Fits most detector models from the Minelab range (and even some other brand machines)… The manufacturer is joking in such a manner ))
Use of headpnones or built-in speaker.
Volume can be adjusted right on the receiver.
The longest sensing distance up to 10 meters.
Comes supplied with Minelab SDC 2300, a headphone jack adapter.
USB charger, 220V AC & 12V car chargers.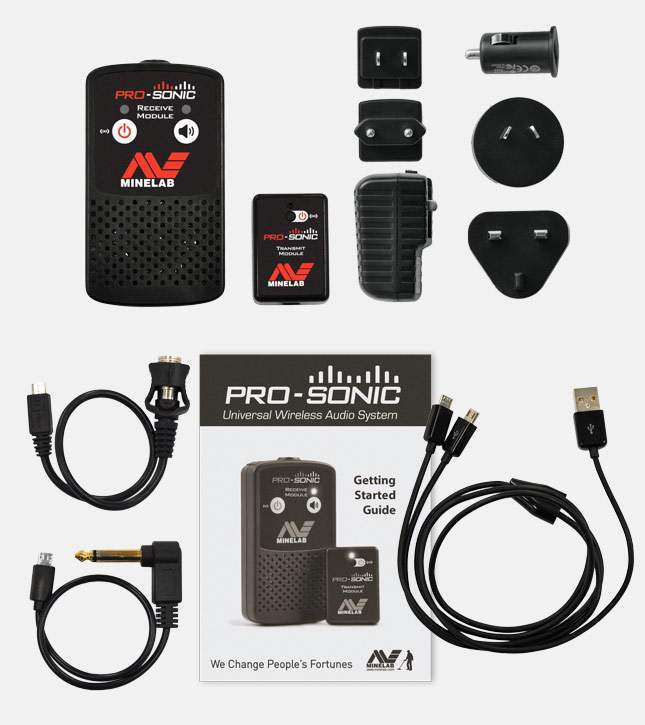 Specification
Transmit Module

Receive Module

  Radio frequency range
2.402 – 2.480 Ghz
  Wireless range
?10 metres / 32 feet
  Operating time
10 hours
16 hours
  Stand-by time
50 days
100 days
  RF transmission power
0 – +8dBm
  Audio amplifier power
–
3 W
  Audio distortion
<1% @ 1 kHz
  Response time
<50 ms
  Volume adjustment
–
7 levels
  Size
50mm?35mm?16mm
2″ ? 1.38″ ? 0.63″
109mm?62mm?22mm
4.29″ ? 2.44″ ? 0.89″
  Weight
23 g / 0.8 oz
110 g / 3.8 oz
Video
Let me remind you: exactly the same novelty (wireless headphones for all metal detectors) has recently been announced by Garrett – Garrett Z-Lynk. This new product closely resembles another one – the Deteknix wireless headphones. So, that's how the manufacturers live ))
WATCHING NOW