The XP Deus sect has proved once again that their metal detector is the best. I think there will come a day, when I join their ranks ))
See how to make two detectors from one XP Deus.
For those who are familiar with the XP Deus and understand what kind of detector it is… A short guide is simple. Pair one coil with the remote control, whereas the other one – with the headphones. For the second coil the shaft is needed… If there is no second shaft available, you may take the upper part of the crutch. It is cheap and will perform its mission. So then you have already two proper metal detectors!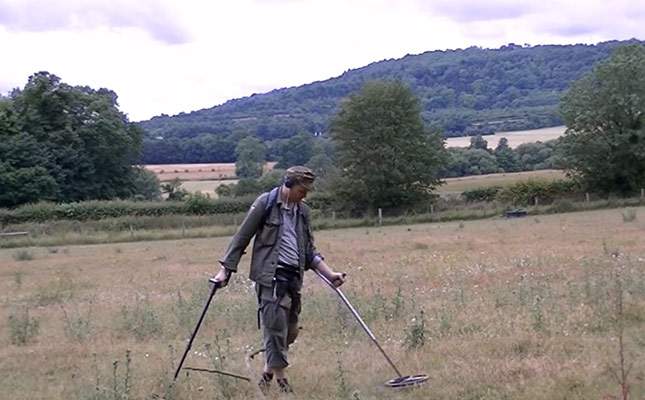 For those who aren't familiar with the XP Deus… An amazing machine! It has everything wireless: the coil, remote control and headphones. But wait, there is more. The XP Deus makes it possible to hunt without the remote control, using the coil and headphones only. The latter have their own control pod, from which you can equally control main functions of the detector. And if you have 2 coils for the XP Deus (the manufacturer sells the ones together with the lower shaft), you can regard it as having 2 machines as well. One coil will be working with the remote control, the other – with the headphones.
By the way, the headset control pod can be unclipped and attached to the shaft (arm, belt). I've already seen an option, when a hunter has the remote control attached to his one forearm and the headset control pod – to the other.
Have you seen a new MarsMD universal shaft? It's made in the XP Deus-like manner – however, the control box attachment is compatible with different detector models (of different manufacturers). Plus, there is an additional attachment point for the camera or flashlight. But the main advantage of this shaft is durability. What armrest can withstand 86kg? Watch the video of a new MarsMD universal shaft.
All about the XP Deus is collected here (news, tests, comparisons with other devices, different reviews and opinions). Plus, on Knowledgebase pages there is additional information you should know before buying the XP Deus. The experience of others will help you save your time and money. Happy hunting to everyone!
WATCHING NOW