The Golden Mask 5+ can see deeper than other machines, even if the competitors are equipped with larger coils. But what will happen if you try the Golden Mask 5+ with an even bigger coil? A good half of the detectorists don't know the right answer. They expect to get greater depth, but instead, another thing happens.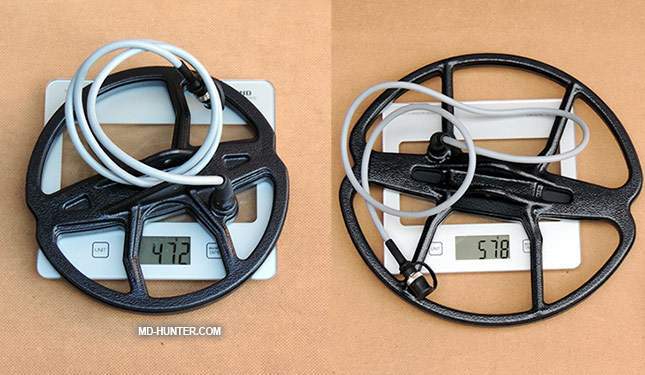 The larger the coil, the heavier its weight. In this particular case, this is about 100 grams. And it's not a trifle. An arm that gets tired quickly feels like giving up if there aren't any discoveries to give it a jump start again. But if you happen to find something, you will definitely tie the detector to your arm, fill your pockets with sugar and continue hunting at least until morning.
The larger coil doesn't necessarily give the greater depth. It will certainly go deeper, but not as deep as you expect it to – not in proportion to its size. At least such being the case with the Golden Mask 5+.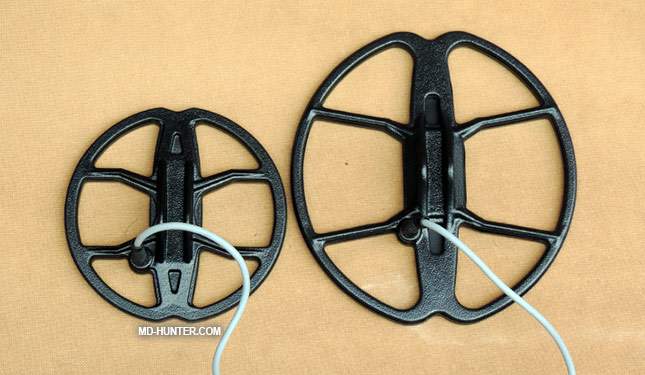 Golden Mask 9 DD and Golden Mask 12 DD coils. Difference: 3 inches. Size increase is 33%, while increase in depth achieved, according to my practical tests, is up to as little as 10-12%.
But why, then, is it necessary to have a large coil? A good half of hobby enthusiasts are sure that this one is needed only for depth. They are wrong though.
Here's an illustrative example: there are some people in the world who have tried out a Coiltek 40?20 Goldhunting coil in practice. The coil has a size of 1 meter and is priced at $500. You think this one can see the very core of the Earth? Far from it! The detection depth corresponds to that of 17-inch coils, and even less.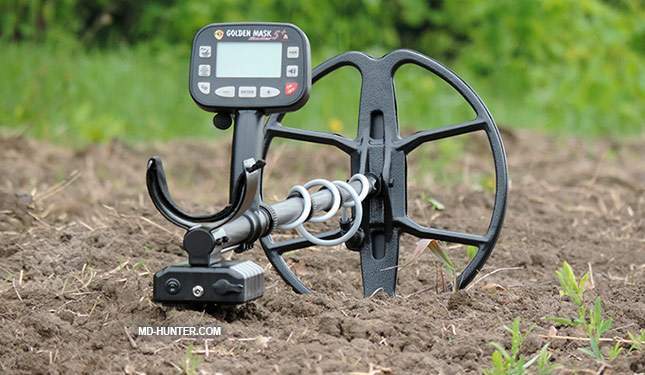 A large coil allows the user to cover vast areas of land. Simply said, your coil will provide 33% greater coverage (compared with 9 and 12-inch coils) in one sweep. And it's my tactics: I hasten to pick up all of the shallow signals, to locate the concentration of artifacts as fast as possible and to find alternative objects buried underground.

Here's another depth test of the Golden Mask 5 Plus performed with the 9 DD and 12 DD coils. Those who don't want to watch the videos can skip to the end and compare the results. That's what the large spider-like coils for the GM 5+ are.
All content related to the Golden Mask 5 Plus is collected here (different depth tests, the recovery speed test, comparisons with other machines, first reviews and opinions). Plus, on Knowledgebase pages there is additional info on this detector – specs, features, the list of coils.
WATCHING NOW