Do you believe that the price may be reduced on holidays? While you are believing, others are making money. The price of Fisher F75 metal detector has slumped (in honor of the holiday).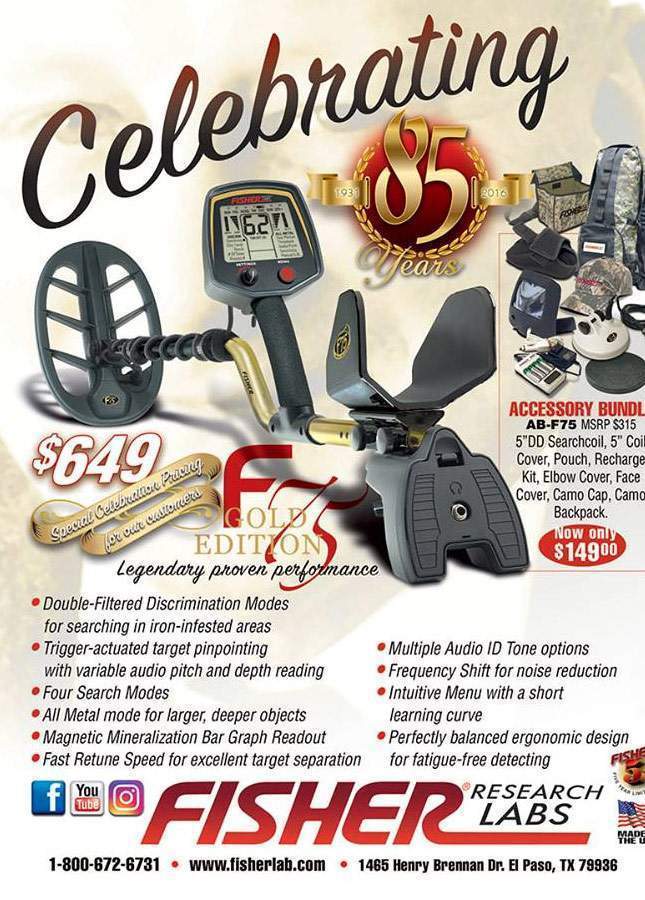 As the manufacturer explains, in 2016 FisherLab celebrates 85 years. For such an occasion, they are bringing joy to treasure hunters through the special price for the Fisher F75 – $649 (Gold Edition).
Two years ago, Garrett also celebrated its anniversary. So what? There weren't any reduced prices. Every month they gave away metal detectors and pinpointers. Why has FisherLab decided to reduce the price in the middle of the year? And why only for one model? What will sellers do with old stocks of the F75 bought at an old price?
There is an assumption that the holiday has nothing to do with it… Either it's competition that has made FisherLab reduce the cost of the F75, or they are preparing a place for their new machines (commenters say FisherLab is going to launch new detectors in August).
All about the Fisher F75 metal detector is collected here (news, comparisons, photos, videos), and on Knowledgebase pages (specs, features, search coils).
WATCHING NOW