Metal detecting is like the lottery – one single treasure hunt can make you a millionaire. The only thing you need to do is go on this hunt, otherwise millions of dollars will fall to somebody else's lot. See the TOP finds recovered by ordinary treasure hunters while using metal detectors.
The Hoxne Hoard – $2.6 million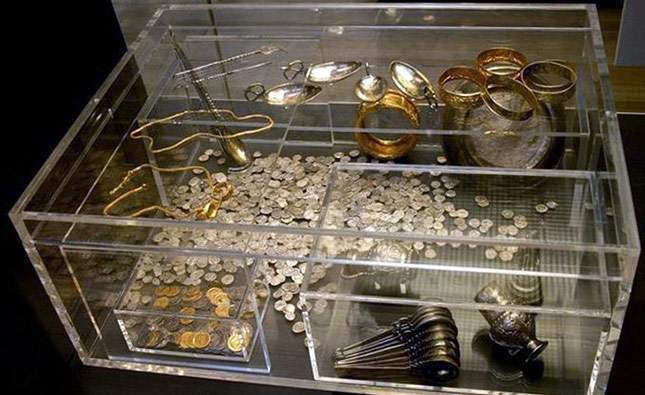 One day, metal detectorist Eric Lawes heard his machine's signal and thought he finally found a hammer that had been dropped by his friend. Instead, he recovered the hoard he could hardly imagine to find. The cache was discovered in a field near the village of Hoxne and contained different objects including silver spoons, gold jewelry as well as lots of gold and silver coins. After stuffing two sacks (!) with treasures, Eric decided to call archeologists. The latter carried out the excavation of the site and unearthed 14,865 Roman coins and 200 items (tableware, gold and silver jewelry) dated back to early 5th century AD. Historians assume the hoard had been buried by a Roman family who had to leave Britain in a hurry, in the very last days of the Roman occupation of Britain. The treasure got its own name – the Hoxne hoard, its worth was estimated at $2.6 million.
The Shapwick Hoard – $0.438 million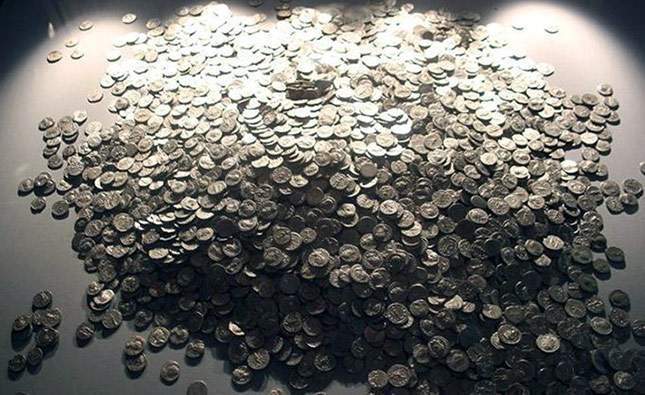 Amateur treasure hunter Martin Elliott was showing his cousin Kevin how to use a metal detector, when he stumbled upon a Roman coin at a 10 cm depth. Within a half-hour, the cousins dug up a few thousand coins. The total number of the coins found was 9,212 silver denarii (the 1st century BC to 3d century AD). Most of them were common, whereas two of them had never been discovered in Britain before. The cache officially valued at $0.438 million was acquired by the Museum of Somerset and became known as the Shapwick hoard.
The Ringlemere Gold Cup — $0.52 million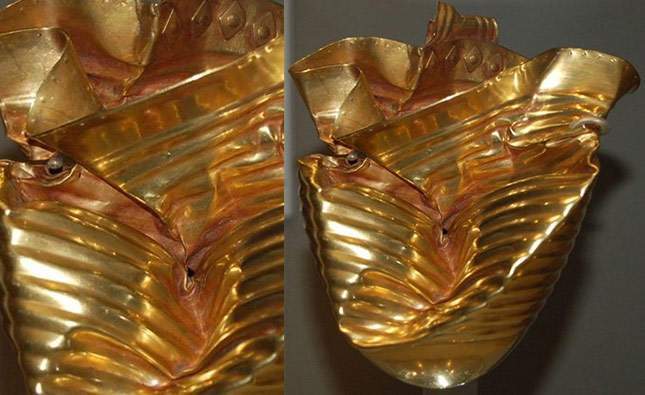 Metal detector hobbyist Cliff Bradshaw decided to explore again a wheat field near Ringlemere, East Kent (England). He had already been there before, but why not to scan it with the detector once again? As a result, Cliff found an ancient gold cup at a depth of 45 cm. By the way, externally it looks very similar to a present-day tin can. Historians were amazed: dating to the period between 1700-1500 BC, the cup had been created from a single ingot of gold. The find was purchased by the British Museum for $520,000.
A huge hoard of Bronze Age axe heads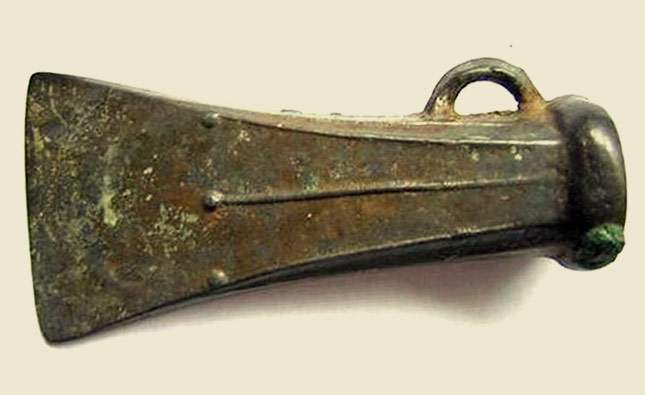 Amateur Tom Peirce was metal detecting a field when, after only a few minutes of walking, his machine started beeping violently. At a depth of only 25 cm Tom unearthed an axe. He dug deeper and discovered 2 dozens more. The next day he came with his friends, and they uncovered 500 bronze artifacts – 258 complete axe heads and 152 fragments – dating back 3,000 years and in perfect condition. This hoard is one of the biggest of its kind found in Britain. Archeologists assume the axes had been buried in the ground as an offering to the gods.
A Roman-era grave discovered in UK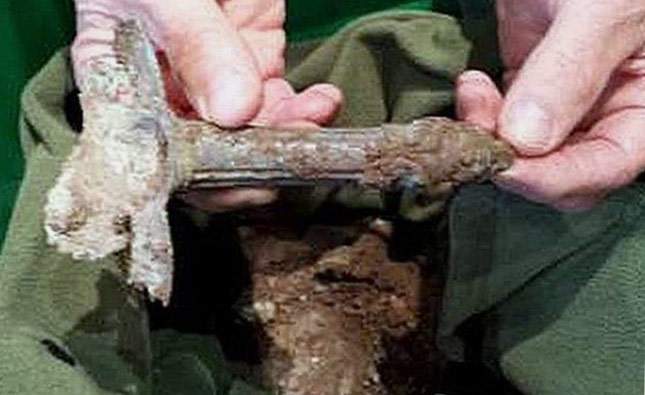 Metal detector enthusiast Phil Kirk once found a Roman coin in the field in England and decided to scan the site more thoroughly. Soon enough he discovered several jugs and a bronze dish. After that Kirk engaged some experts, who recovered a host of other artifacts, and a large bottle stuffed full with cremated bone. The most interesting thing found was shattered mosaic glassware, presumably from Alexandria, Egypt.
The cross from Aunslev (Viking crucifix)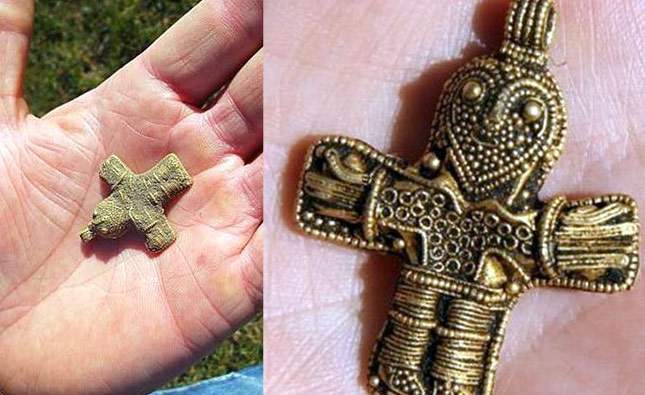 Dennis Fabricius Holm made an amazing find while searching in the fields near the town of Aunslev, Denmark. The detectorist was enjoying an afternoon off work, when he discovered an ancient gold crucifix in the shape of Jesus Christ with his arms outstretched – a small pendant, only 4 cm in height. Holm posted the photo of the find on his Facebook page, and it created a furore in media and among scientists. Turns out, the cross dates back to the 10th century and is one of the oldest Christian symbols to be discovered in Denmark. The find turned history upside down: apparently Christianity was brought to this country earlier than previously thought. The item was found with the Garrett ACE metal detector.
The Escrick Ring — $44,000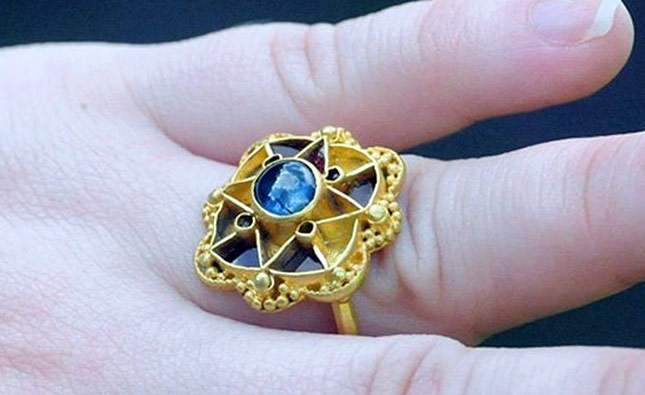 At first amateur Michael Greenhorn didn't even realize what he had discovered. Only later did it become clear that it was a ring made of gold, glass and a large sapphire. The find is so rare that there is literally nothing to compare it with, even among those found nowadays. The ring had been made in Europe and dates back to the 5th or 6th centuries AD. The sapphire is older than the ring – it had probably been cut 10 centuries ago but the ring itself had been specially made around the sapphire. The famous find got its own name – the Escrick Ring – and was bought by the Yorkshire Museum for $44,000.
Gold Iron Age torcs — $0.57 million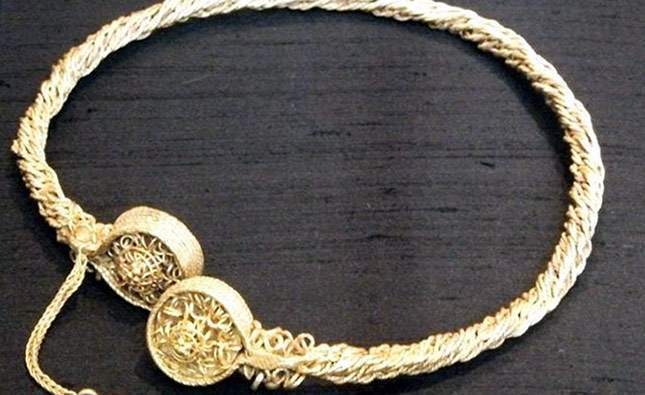 One day searcher David Booth went out just to get a breath of fresh air, having taken a metal detector along with him. That day he found 4 gold necklaces at a depth of only 15 cm. Experts say it's one of the most significant hoards ever found in Scotland. The torcs date from between 300 and 100 BC. Two of them had been designed in the local Scottish style, one had been made based on French style, and one with Mediterranean motifs. The ornaments were purchased by the National Museum of Scotland for $570,000.
The Staffordshire Hoard — $5.3 million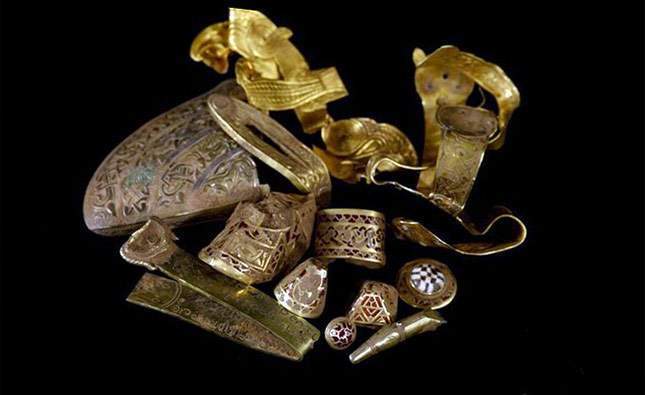 Metal detecting enthusiast Terry Herbert had been out of luck for so long… One day he asked his friend and fellow farmer to dig up his field (metal detecting on private land in the UK requires a permit from the landowner) – and got his permission. Within a few days, Terry discovered more than 5 kg of treasure. The hoard contained 4,000 artifacts dating to the 7th century AD. Most of the objects discovered had been made for military use – fittings from the hilts of swords, fragments from helmets. Also, the cache included two Christian crosses and a bent strip of gold bearing a biblical inscription in Latin. The hoard was purchased by the local British museums for $5.3 million and has become known as the Staffordshire Hoard (it even has its own Wikipedia page).
The Crosby Garrett Helmet — $3.6 million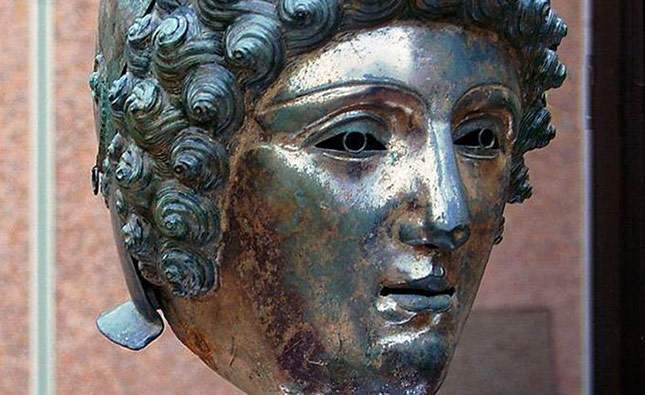 A stunning item – 1,800-year-old helmet complete with face mask – was found in a British field by an ordinary treasure hunter with a metal detector. Discovered in fragments, the helmet was pieced back together again and was restored to the original condition of a new one. Such face masks had been worn by Roman horse soldiers at ceremonial cavalry parades. The find was sold for $3.6 million and has become known as the Crosby Garrett helmet.
The Boot of Cortez — $1.55 million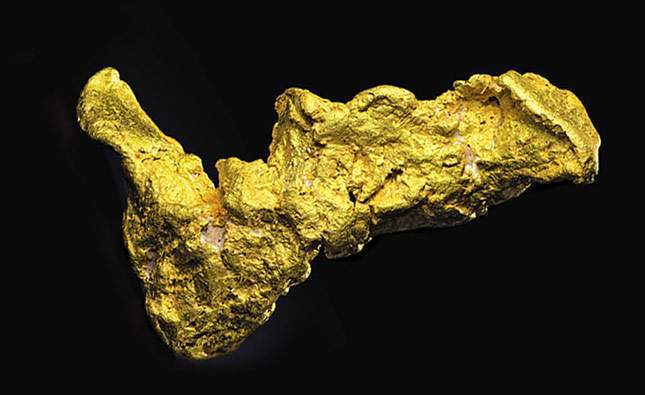 In 1989, a local prospector from Senora, Mexico, which is about 70 miles south of Arizona, went to the store and purchased an inexpensive metal detector. He spent several days wandering around and constantly finding nails and other junk, when suddenly one morning he got a good strong signal. When the find was unearthed, it turned out to be a huge gold nugget weighing 389.4 troy ounces, or 26.6 pounds.
Experts think the name suits the find perfectly, as it has externally a distinct resemblance to the boot of a Spanish conquistador. This amazing nugget has been on display in the museums several times, unless it was sold at auction for $1,553,500. The find got its own name – the Boot of Cortez.
WATCHING NOW