I don't know how good a new Minelab PRO-Find 35 is, it hasn't reached my hands yet (I have already ordered and am waiting for it to arrive). But one thing I can say for sure: the latest new probes are obviously better than the previous ones. This is in reference to the XP MI-6, Minelab PRO-Find 15, Minelab PRO-Find 35, Teknetics Tek-Point, and Fisher F-Pulse. And each of them comes not without secret.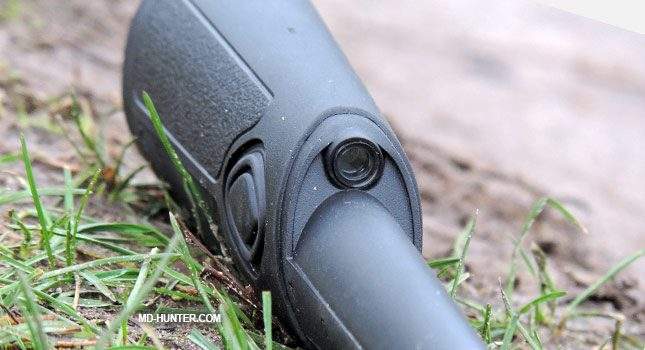 The LED light can be turned off. First, this one isn't quite ordinary. The light coming from the LED passes through a lens giving an optimal beam. I've got the impression that brightness of the light is higher than that of other pinpointers with a similar feature. If desired, this backlight can be used as a mini flashlight. Second, not everyone likes a backlight on the probe. Me, for instance, as automatic light ON won't actually help the probe battery last longer.
Operation in saltwater. Not every pinpointer can work in saltwater – it's simply impossible to search because of false responses. The Fisher F-Pulse has 3 sensitivity levels, so in the event of excess false signals, the sensitivity can be adjusted to a lower setting. But anyway, you should start with turning on the unit first. When working in any challenging environments (highly mineralized ground, saltwater) you should turn on your probe with the tip in direct contact with this environment. Submerge your pinpointer in saltwater first and then turn it on – maybe you won't even need to reduce sensitivity.
Fast Retune. The Fisher F-Pulse probe has a fast retune feature to quickly tune out the environment. It can be used while getting closer to a target, eliminating any environmental response as well as when detecting at trashy sites with multiple targets that are close together.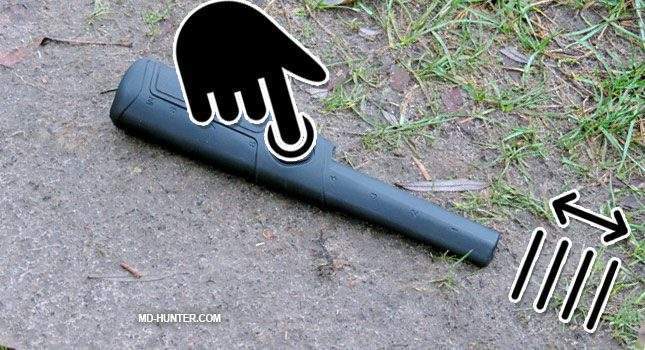 Different modes. Earlier I used to select the pinpointer's audio + vibrate mode. But later I switched over to the audio only (when there was a necessity to save battery life) at one point. Rather good for searching. Currently I switch to vibrate modes only if necessary – e.g., when the probe is submerged in water (I can't hear the sound then), or when searching in Stealth mode (my machine has the vibrate mode, too). The Fisher F-Pulse have both audio and vibrate responses. You can work in either vibration or 'beep' mode or both at the same time.
A thought has just come into my head… The fact of the matter is that I haven't read the Fisher F-Pulse manual. The pinpointer is really easy to use, it operates in the same way like the recognized 'classical' probes do. The sensitivity and operation are the separate modes and can be combined with each other. You can select the mode simply by repeatedly pressing the button to cycle through all the settings by turn. It's very convenient for the device with a single button operation. I even didn't cycle through all of the Fisher F-Pulse settings – I selected an audio with sensitivity level 3, and haven't changed anything since then. Why do I need to change anything? No false responses, max depth – I like everything. But what if the Fisher F-Pulse has yet one type of response – a signal with light?
The lost-alarm won't help. The Fisher F-Pulse has an alert that should help you find the probe if it's lost. It will sound after 5 minutes of being on without a button press, and will emit warning chirps for… 5 minutes, too. After that it will power off automatically, thus the probability is that your unit will 'say hello' to its new owner. The main thing is that the alarm will be activated only if the pinpointer has been left near the hole when powered on. If you get used to turn off the probe when starting to dig with a shovel (like I do), or the unit falls out of the holster when you move – no alarm will help you. Only a lanyard will.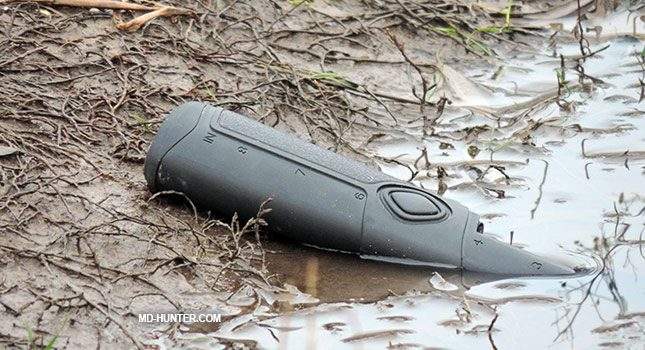 All info on the Fisher F-Pulse pinpointer is collected here (news, tests, comparisons, reviews and opinions). On Knowledgebase pages there are additional sections (specs, features, and much more). Happy hunting (and no winter for us)!
WATCHING NOW