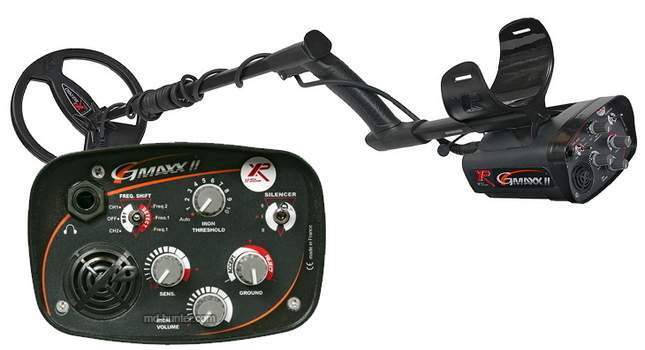 Model Features

Manufacturer:

XP (France)

Model:

GMaxx 2

Year:

2004 - 2021

Type:

ground detector

Rating (owner reviews):

 ★★★★★

Display:

 No

Technology:

VLF

Frequency:

4,6 kHz

VDI / Numerical Target-ID:

No

Manual ground balance:

Yes

Automatic ground balance:

No

Noise cancel:

Yes

Sound, tones:

3

Adjusting the volume:

No

Pinpoint:

No

Using headphones:

Yes

Search coil:

XP 22.5 DD

Parameters

Batteries:

8x AA

Weight:

1,4 kg

Length (min/max):

110-135 cm

Additionally
XP GMaxx 2 on MD Hunter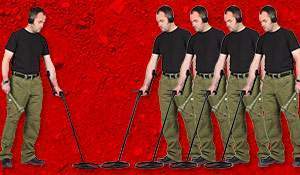 Life before and after XP Deus. The history of metal detectors
Coils for XP GMaxx 2
Review
The XP GMaxx 2 is a professional metal detector that perfectly copes with identification of hoards, chests and potties at a maximum detection depth. The device is designed for ground search, but can also work in water with submersion up to the control box (the coil is waterproof only, whereas the control box of the unit isn't).
The electronic circuitry of the XP GMaxx 2 metal detector is based on VLF technology. The operating frequency is 4.6 kHz. The device has no LCD indication, that's why all information about a target is perceived by the ear. The XP GMaxx 2 is controlled using four potentiometers and two three-way switches. The detector has all functions necessary for effective search: adjustable sensitivity, ground balance, threshold and interference tune-out. The sensitivity is adjusted in the range of 0-13. The XP GMaxx 2 metal detector has a manual ground balance. The threshold is set both manually and automatically with a 1-10 range. A 3-tone audio response is applied for indicating a find. There is a 6.35mm headphone socket.
The XP GMaxx 2 comes equipped with a standard XP 22.5'' DD coil. For this device there exist other coils of different sizes and parameters. The power supply of the unit is 8 AA usual batteries or rechargeable ones. The size of the detector is adjusted: 110-135cm. The weight of the XP GMaxx 2 (assembled) is 1.4kg.