White's is going to mix the capabilities of two different types of machines – VLF and Pulse Induction. Looking forward to White's new super metal detector?
What do you know about VLF and Pulse Induction technologies? For an ordinary treasure hunter it's enough to know basic principles. VLF detectors are based on the continuous wave principle. These machines provide better discrimination, but can be affected by external factors. For example, ground mineralization reduces detection depth. Pulse Induction detectors, however, still give good detection depth on highly mineralized ground, but have problems with discrimination accuracy.
White's decided to create a hybrid device by combining two technologies. The patent was verified and confirmed on March 15, 2016 (U.S. Patent No. 9,285,496 В1).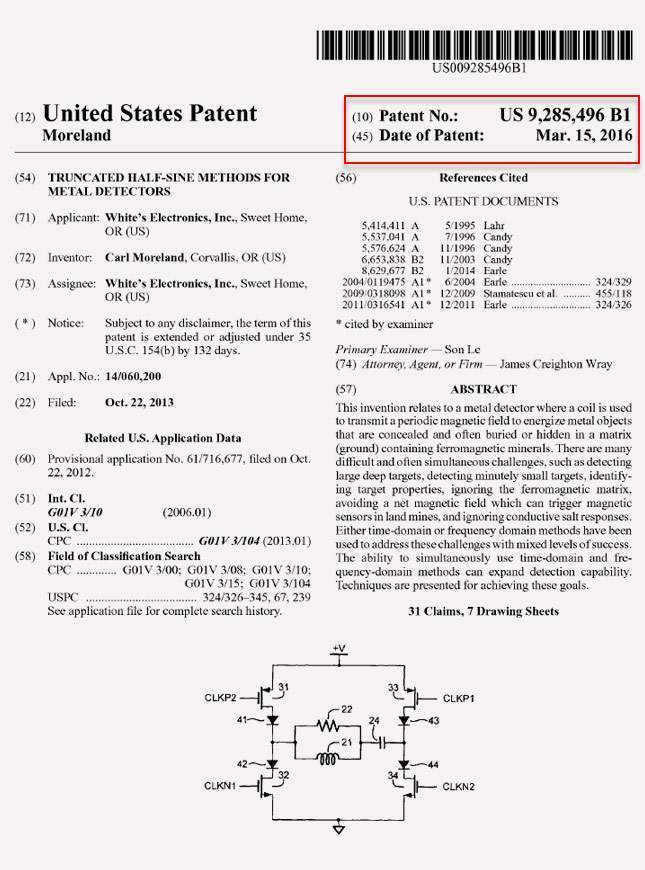 (source: pdf)
The author of a new method is Carl Moreland, White's former chief engineer. Currently Carl is continuing his career at First Texas (Fisher/Teknetics/Bounty Hunter metal detectors). He is one of the developers of a triple-frequency Spectra V3, and author of books about metal detectors. For now, John Earle, chief engineer at White's today, is engaged in developing the project.
Let me remind you: last year FisherLab announced its plans to release a smart metal detector. So what? If there's any news, we won't miss it. So check back on MD-Hunter blog. Happy hunting to all!
WATCHING NOW