Why has an On-button-lightly-pressed feature been taken away in a new Garrett pinpointer? Who needs 6 settings? What's new in the Garrett PRO Pointer AT.
What is the need for a pinpointer while metal detecting? It saves time! If there is a hole with a find – you take the pinpointer, switch it on, stick into the hole, pick up a find and switch the device off. That's all. I don't need anything more from it!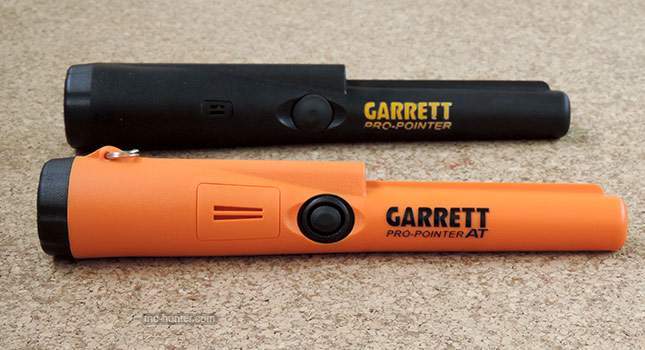 The old Garrett PRO-Pointer (taken out of production) was one of the best pinpointers, it worked as the pinpointer should – being simple, reliable and effective. Were it not for the Garrett PRO-Pointer China fakes, we probably wouldn't see the new products in 2015.
Here's a new Garrett PRO-Pointer AT. It differs from its predecessor: underwater search up to 3 meters, orange color, slight changes in body, and… 6(!) settings.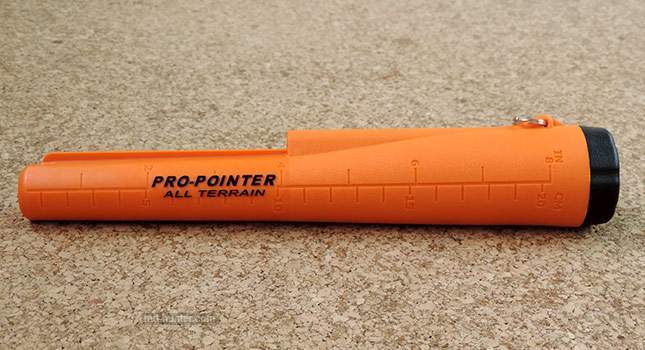 Underwater search is a useful option for everyone. Even for those who go hunting only on land. The new Garrett PRO-Pointer AT thereby has become even more reliable.
Orange color. Do you know what name the new Garrett PRO-Pointer AT has gained from treasure hunters? The Carrot )) I have said many times that, for the purposes of metal detecting, the tools must be in maximum contrast with the ground. You won't tread on it while digging out a hole. If you forget it near the hole, it's easier to hunt it out later on. The brighter, the better (anything but a pink one).
6 settings include 3 preset sensitivity levels that may be combined with Audio-plus-Vibrate or Vibrate-only responses. Everything is controlled using a single button. And the same one is for switching on/off.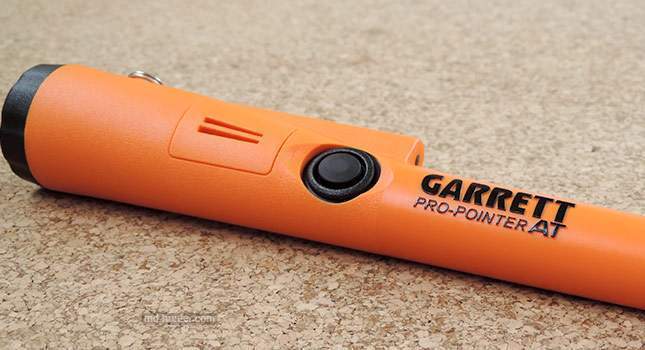 The stupidest thing I can imagine is sitting over a hole and searching through the pinpointer settings, or trying to switch it off. Well, but it must save time!
With the new Garrett PRO-Pointer AT, it's not all that simple… The problem is that the pinpointer is switched off by holding the button for 2 seconds. If you hold it longer – instead of switching off, you get into the settings. Further you should go out of settings first and try switching your pinpointer off again.
Even having learned to switch it off, I don't get satisfaction. Yes, if you release the button immediately after a signal, the pinpointer is switched off. But I am waiting for this signal and then jerk my finger back like from a hot frying pan. Are the days when I gladly switched my pinpointer on and off gone?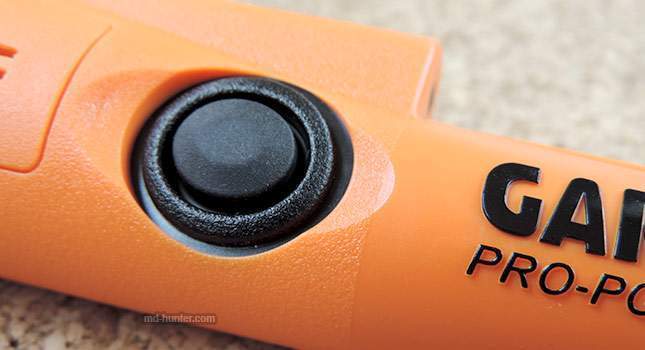 Like its predecessor, the new pinpointer also has a Fast Retune feature. Put the power-on device on the ground, press the button once and sensitivity will be tuned automatically. This is helpful in cases of ground mineral interference. Retuning works until the device is switched off. When switched on next time, the pinpointer returns sensitivity to initial condition.
Also, Fast Retune can be applied in cases, when it's difficult to catch where the response comes from. For example, there are 2 finds in the hole and both give the response. By reducing sensitivity with Fast Retune, you can easily separate the response and pick out both finds one by one.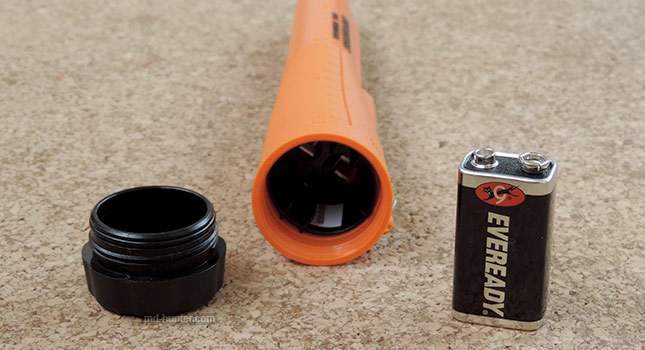 There is a lost pinpointer alarm signaling after 5 minutes of inactivity. But after another 5 minutes, the pinpointer is switched off… Supposing I forgot my pinpointer and didn't come back in 10 minutes – so will it go to anyone else? I would rather have my battery discharged, it wouldn't hurt me so much ))
Also, there is a dual-tone alarm, when the battery becomes low. Very convenient! But the old Garrett PRO-Pointer had it as well.
In the pursuit of waterproofing capacity (or 6 settings), the new Garrett PRO-Pointer AT has lost its noticeable feature! This is about the On button when lightly pressed. In the old pinpointer it worked in such a way: you pressed the button halfway… As long as you were holding it, the pinpointer was on. When you released it, the device was off. It was really convenient. Now the new Garrett PRO-Pointer AT has no this feature.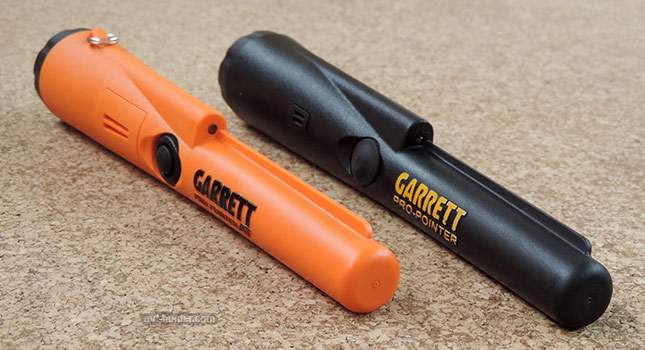 Latest news on pinpointers. Whites TRX can be used underwater now. Chinese Deteknix has released a pinpointer with USB and display (NEW 2015).
All about the Garrett PRO Pointer AT is collected here (news, tests, comparisons with other devices, different reviews and opinions).
WATCHING NOW