Here are the Teknetics Eurotek and the Eurotek PRO metal detectors, both come from the same series, but their coils aren't interchangeable between these two models. The Eurotek & the Eurotek PRO have different connectors. See the photo.
The Teknetics Eurotek initially comes with a very simple coil – Teknetics 8 (8COIL-7TEK). Little detection depth, a mono type. This coil reduces fairly average detector capabilities as it is. If you decide to change it, you may be faced with a difficulty that can't be seen when buying the Teknetics Eurotek. The problem lies in the old type connector.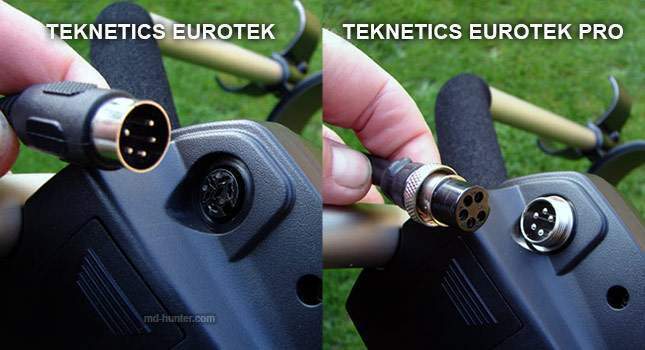 The Teknetics Eurotek coil has a simple plug-in connector (as in old metal detectors). The Teknetics Eurotek PRO coil has a standard one, as in most modern machines.
All about the Teknetics Eurotek PRO is collected here (news, tests, comparisons with other devices, different reviews and opinions). Plus, on Knowledgebase pages there is additional information you should know before buying the Teknetics Eurotek PRO. The experience of others will help you save your time and money. Happy hunting to everyone!
WATCHING NOW