Right now there is a war between metal detector manufacturers. While things sort themselves out (some manufacturers are actually suing one another), petty wisecracks are being thrown into social networks. Interestingly, large manufacturers behave like gentlemen: Teknetics has made an apology to Minelab.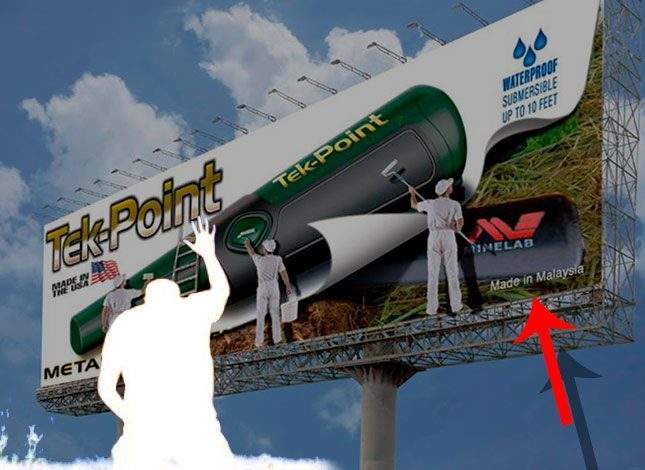 Teknetics (Facebook)

Hello Teknetics fans

We recently posted a meme to our Facebook and Instagram accounts which indicated Minelab's pinpointers were made in Malaysia. This meme was in error. Unlike many of Minelab's other products, which are made in Malaysia such as the SDC 2300, GPX, CTX 3030, X-Terra, E-Trac, Go-Find, etc. these pinpointers are labeled as "Made in Ireland".

We regret the error and are always willing to admit when we've made a mistake.

The root of the confusion stems from the fact that many of Minelab's products are produced in Malaysia as well as a Minelab announcement (which we've attached on this post) dated June 25th, 2009, that states:

"Codan has decided to cease Minelab's manufacturing activities in Ireland by December 2009 and to outsource the majority of that activity to Codan's manufacturing service provider, Plexus, situated in Penang Malaysia."

It's nice to see that Minelab is proud of the fact that many of their products are made in Malaysia, just as we are proud that Teknetics is made in the USA.

Thank you.
Simply said, they trolled Minelab from Teknetics and Fisher accounts on the subject of the manufacturing country. Like, we manufacture our products in the USA, whereas you make yours in Asia (and sell them in the USA). In your opinion, has Minelab really brought Teknetics to their knees and made them beg forgiveness?
All about Teknetics is collected here. All content related to Minelab is here. Let me remind you: Minelab is still suing XP, the war between MD manufacturers continues unabated.
WATCHING NOW