Quest Metal Detectors are going to release an updated version of the Quest PRO machine in early 2019. The upcoming model will reportedly be called the Quest Q60 and will still remain at the top of the Quest hobby detectors line. So what new features will you see in the Quest Q60?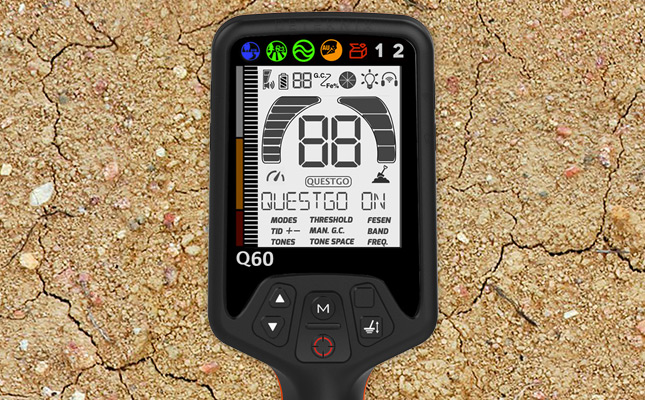 The Quest Q60 is basically the update of the Quest PRO's old version. The developers have first of all put right the wrongs and have taken into account suggestions from the detector's owners. Thus it's going to be a professional multi-frequency unit able to locate historical artifacts, jewelry, and any metal actually. The distinctive features of the Quest Q60 are water submersion up to 5 meters, smart device compatibility, a built-in battery with a USB charger, optimized saltwater performance.
The manufacturer hasn't yet revealed the info about new features added to the detector. It's possible the Quest Q60 will have a different screen, alternative wireless headphones, another coil (or two supplied) as well as an app for the smartphone (a tool providing the gps for the particular geolocation, a finds list, data- and settings-sharing capabilities, tech support). It's precisely known that Quest Metal Detectors are currently at work on developing multi-frequency devices, new wireless headphones, a wireless probe (to be paired to the metal detector and wireless headset), and md apps for smartphones.
The Quest Q60 will go on sale in February 2019.
All about the Quest Q60 is collected here (news, tests, comparisons with other devices, different reviews and opinions). Plus, on Knowledgebase pages there is additional information you should know before buying the Quest Q60. The experience of others will help you save your time and money. Happy hunting to everyone!
WATCHING NOW