The Nokta Impact metal detector is one of the most anticipated products of 2017. Here's the first video showing the device. Look at this new machine: will it be able to outclass mid-level and professional detectors?
Nokta impact – Quick run through of the menus:
Nokta impact – Setting up for coin hunting: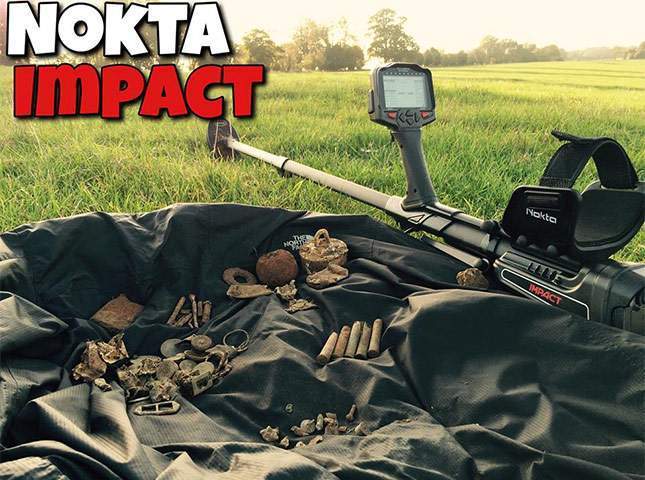 Hello and welcome to Notka's flagship model the Impact. I've been very honoured to be part of a great team helping with the development testing of this cracking machine since around late October 2016. I've been comparing and general testing of the Impact against many other machines on the market like I do with all new machines I try and been giving my thoughts and feedback concerning changes to be made and finding issues and so on. Been an enjoyable process so here is a little info on Nokta's soon to be released Flagship model the Impact.
For starters…. The build is rugged and sturdy with no wobbles in the shaft or slackness within the whole unit what makes for good detecting in the field. Does it feel heavy because of this ruggedness ?.. No! it feels well balanced and purposeful and I was fine swinging this all day long without fatigue in the arms shoulder or back what is good.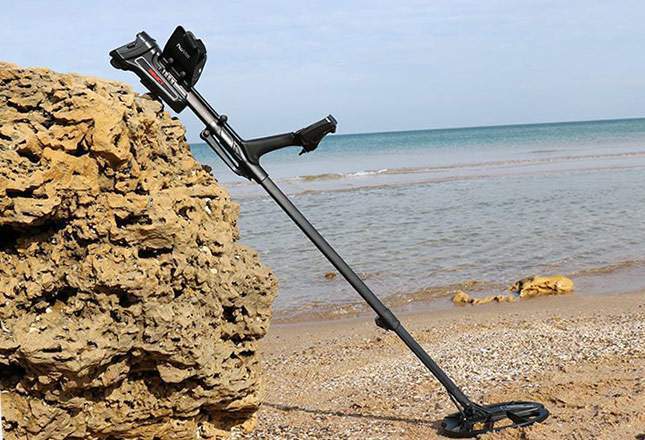 The telescopic stem slides down to a nice manageable size and locks into place well at around 42″. With the coil lead inside the shaft you get no tangles what is great, when ready just extend the shaft to where it's good for you and push the clips to hold and detect you go. Now Nokta have added a detachable stand to the Impact that works well and keeps the Impacts rear end off the ground, this is for those people that don't like resting their machines on spades to fall off, yes I've done it many a time.
The Impact runs on four AA batteries and battery life depends on programs used and also if using the wired or wireless headphones, being it is a powerful machine it's well worth taking some extra batteries out with you for when running in modes like deep and running at 20 kHz, this will drain the machine quicker than the lower power modes like VLX1 and VLX2.
The VDI display is vivid especially when using the backlight and well thought out with everything you need right there and easy to see.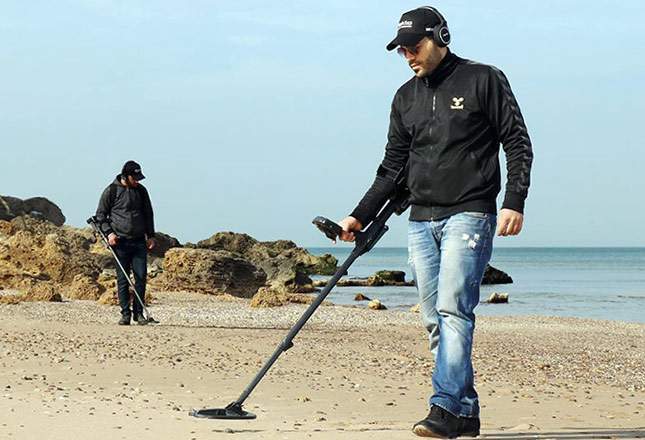 Initially you might push the the wrong button while swapping around settings but this will become second nature after a short period of time. The menu layout is simple and effective and you don't have to pop in and out menus to alter stuff what is great… Can be a hassle with some machine in and out of menus but this is straight forward and to my liking.
This is one machine that holds a lot of playing cards in its favour and gives you plenty to crack on with, many search options gives you many different ways to detect, certain ways will benefit your style of detecting and some will benefit the ground you detect on.
Just to mention a few below…
12 programs and 3 different frequencies 5/14/20 kHz also static and static discrimination modes. low/mid/hi gain display options, gone of the days of no VDI numbers as the impact really does try hard to give you a balanced reading when items on the edge of detection range, it does very well at this.
The machine really is a Swiss Army knife of the detector world that can get you deep finds on old worked pasture sites or really cut the mustard around iron on ploughed busy sites, the way you wish to do this is down to you with a wealth of modes and options at hand… Nokta really is giving the user more control on this machine over any of their previous models… They do say variety is the spice of life.
As you can see in the photo the Impact and the smaller coil was doing dandy for me here.
With this coil attached I was still punching down 7-8 inches and beyond in many cases especially when running 5 kHz. Not the aim of the game with a small coil but it seemed at home thinking it was larger than it really is.
Truly something magical about this coil and seems to defy the laws of detecting in the field I felt. Just seemed to keep finding signals galore and what you see there I placed into groups after a good few hours testing whilst cycling through the kHz Range in one session.
Larger items at 5 kHz medium items at 14 kHz and the small it's was at 20 kHz. Roll all the Nokta's and Makros into one and you have the Impact, it seems to make the previous models a little flat, underwhelming so to say and that's even just by placing them besides the impact and they're already looking defeated.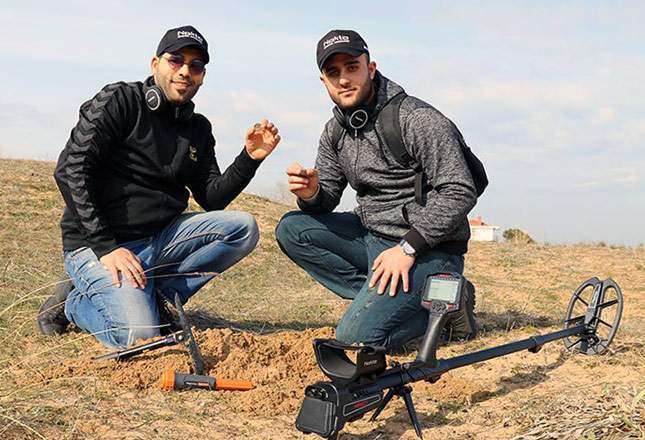 As a whole package the Impact is a great all rounder… Right now I can't go too much into performance compared to other models on the market as tests are still on going so to say but what I can say is it's going to very hard to out gun this one.. If there is a machine that gets a signal that this don't I will be surprised indeed.
I'm also loving certain modes like DI99 that produces sweet digger audio from other models but classics like DI2 and so on are all still there at the push of a button.
Do I like the Impact…. Yes indeed, would I be happy if this was my only detector…. Yes indeed.
Nokta/Makro is going from strength to strength and this is one company that is ticking many of the right boxes in the process. Sure is a company that many others should be watching closely going forward in the years to come. I would just like to say and big thank you to Dilek and team at Nokta/Makro for letting me be apart of the Development testing process on this great machine. All the Above is thoughts and feelings on my pre production model, final machine may alter !!
Cheers Ziggy.

Nokta IMPACT is a 3-frequency device (5kHz/14kHz/20kHz) combining multiple detectors and enabling a unique yet easy-to-use detector experience for new to experienced detectorists.
Impact Features:
12 Search Modes (2 non-motion, 2 all metal, 8 discrimination modes)
Advanced Discrimination & Unmasking Ability
Online Firmware Updates
Optional 2.4 GHz Wireless Headphones
Vibration
LED Flashlight
As well as all the settings users need: Ground Balance with 3 Options (Automatic/Manual /Tracking), Notch Filter, Tone Break, Iron Audio (Fe Vol.),Audio Tone (150Hz-700Hz), iSAT, ,Magnetic Mineralization Indicator, Audio Boost, ID Normalization, Target ID Depth Level, Backlight, Factory Defaults/Save
IMPACT STANDARD PACKAGE (11000701)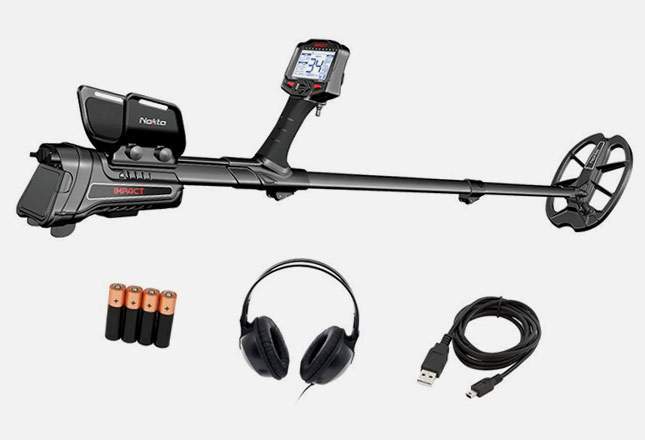 MSRP: 849 USD
Includes: Waterproof IM28 – DD Search Coil 28 cm x 18 cm (11" x 7"), Headphones, 4 x AA Alkaline Batteries, USB Cable
IMPACT PRO PACKAGE (11000702)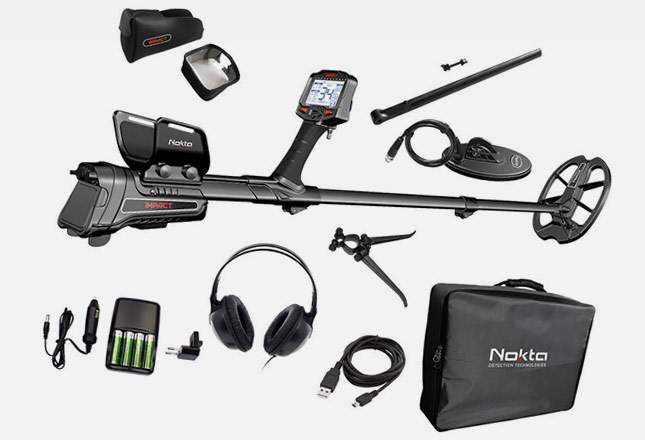 MSRP: 999 USD
Includes: Waterproof IM28 – DD Search Coil 28 cm x 18 cm (11" x 7"), Waterproof IM19 – DD Search Coil 19 cm x 10 cm (7,5" x 4"), Headphones, Carrying Bag, Protective Covers, Stand, Extra Lower Shaft, AC & Car Charger, 4 x AA Rechargeable Batteries, USB Cable
Optional Search Coils:
Waterproof IM40 – DD Search Coil 40 cm x 35 cm (15.5" x 14")
Waterproof IM24 – DD Search Coil 24cm x 13cm (9.5" x 5″)
Let me remind you: the Nokta Impact is expected to be launched this year (2017), the manufacturer has promised we'll see a triple-frequency machine. All about the Nokta Impact metal detector is collected here and on Knowledgebase pages.
WATCHING NOW