My first metal detector was the Garrett ACE 250. When the time came to improve the quality of my searches, I chose the Garrett AT PRO as the second machine. What has become better after the ACE 250.
The Garrett ACE 250 is an excellent metal detector. I don't know how many beginners have taken the Path of a Hunter with it. I am sure most of them obtained their first finds and have stayed on this Path for a lifetime. But be the ACE 250 ever so good – still and all, there will come a day, when you have purchase of a higher level metal detector on mind…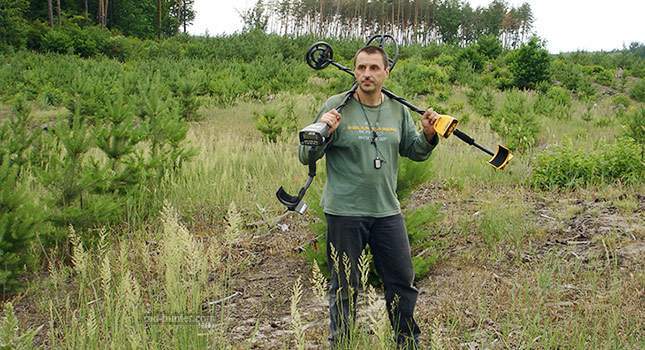 Tip. When choosing a new metal detector you should ask yourself: just what do I want? For instance, with the ACE 250 I needed VDI/TargetID, more accurate discrimination, ground balance and an 11-inch DD coil. When I could make that list, the next metal detector choice came down to 2 models – the Garrett AT PRO and the Minelab X-Terra 705. It's easier to choose between two machines, isn't it? Then I bought the Garrett AT PRO. And as time went on, I understood that if you had to choose between these two detectors, both options were right.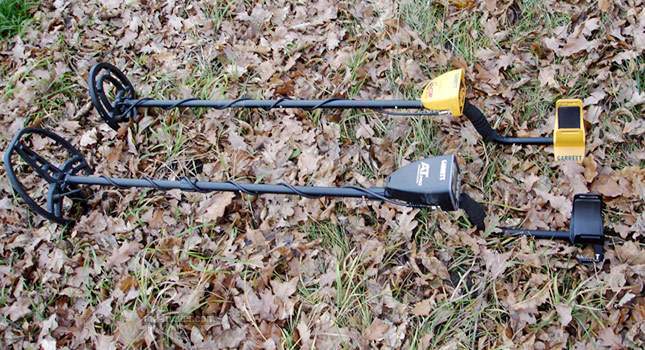 The Garrett AT PRO is very often called an enhanced version of the ACE 250. It may be so. At any rate, these metal detectors have much in common. I changed over from the ACE 250 to the AT PRO quite simply. I took the new device in hand, switched STD on, selected the COIN mode, adjusted ground balance (it's simple!) and I was ready to hunt. In one day I understood what responses the Garrett AT PRO gave to different targets. One more day later, I was already mastering the PRO mode.
What has become better. Do you know the purpose of ground balance in the metal detector? It's not only false responses. The soil also may reduce target detection depth. By excluding the effect of soil, you can save maximum depth.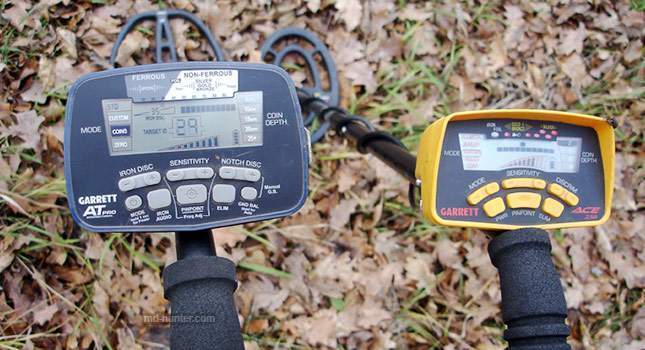 The main question is: to dig or not to dig this signal? The Garrett ACE 250 has all metals divided into 12 groups (graphic discrimination scale). In the Garrett AT PRO metals are 'cut thinner' – the graphic scale is almost twice as large; furthermore, there is also VDI/TargetID with the range of 0-99. So it's easier to decide whether to dig or not.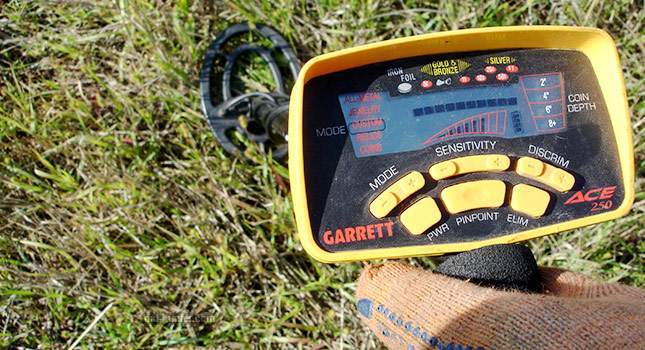 I have already said the Garrett AT PRO and the Garrett ACE 250 metal detectors are very similar. They have practically the same design. And there is no improved comfort when hunting with the AT PRO.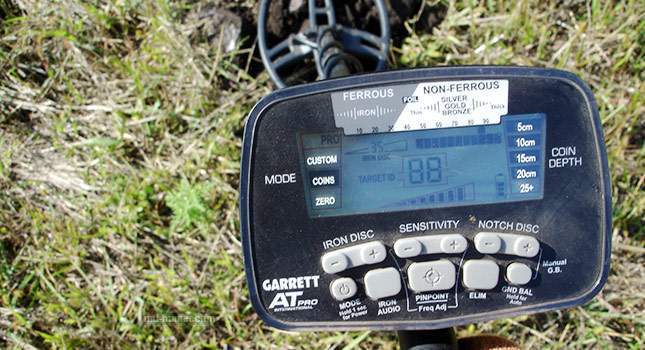 One thing that should be pointed out: on my AT PRO the shafts have locking collars… After a year of hunting with the ACE 250, there appeared a play in its shafts. It's heard like a slight rattling sound at each sweep with the detector. This rattle doesn't affect detection quality anyhow, but it exists. The metal detectors of other manufacturers (Minelab, Fisher) have long had additional twist locks that exclude such a play. The Garrett AT PRO also has these ones on the shaft.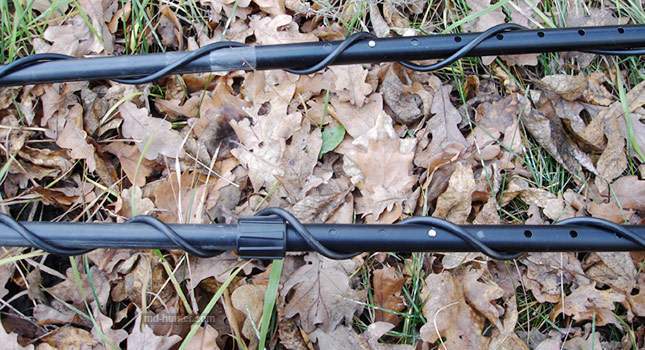 While hunting with the Garrett ACE 250 lately, I've got a feeling that I leave finds behind (and so it was). One of the points to improving the quality of hunting is detection depth. The main factor influencing depth is the coil size.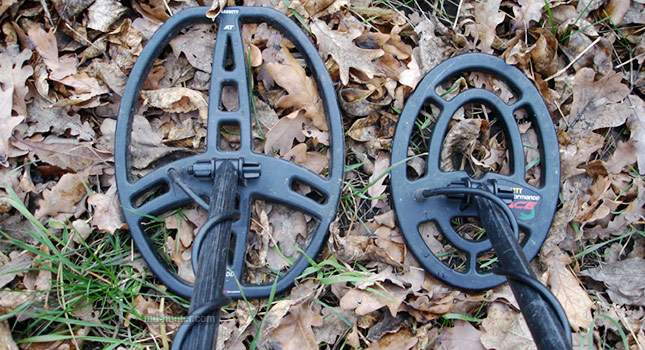 The Garrett ACE 250 comes standard with the 6.5×9 ACE PROformance coil. Its main advantages are: resistance to interference, sufficient sensitivity and excellent accuracy in the pinpoint mode. The coil, however, has average depth capabilities. Type: mono.
The Garrett AT PRO comes standard with the Garrett 8.5×11 PROformance DD coil. This one has 2 main advantages: increased depth and DD type. But it is worth noting that when you work with this coil in the pinpoint mode, a small find very often turns out to be in the sidewall of a hole (but not in the centre as expected). Of course, with an 11-inch one I started feeling more confident.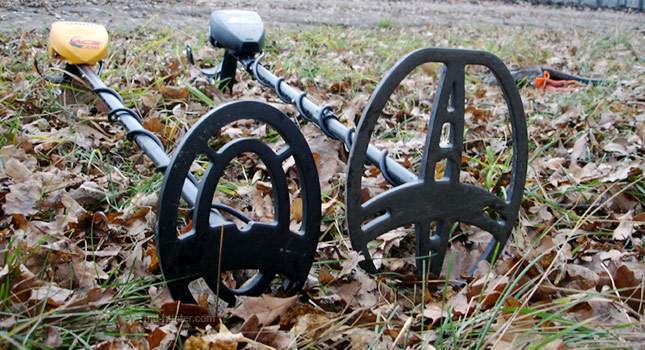 A few years later, after possessing both detectors… I know that all metal detectors get finds. The number of finds depends on a hunter: where you come to dig, how much time you are ready to spend digging etc.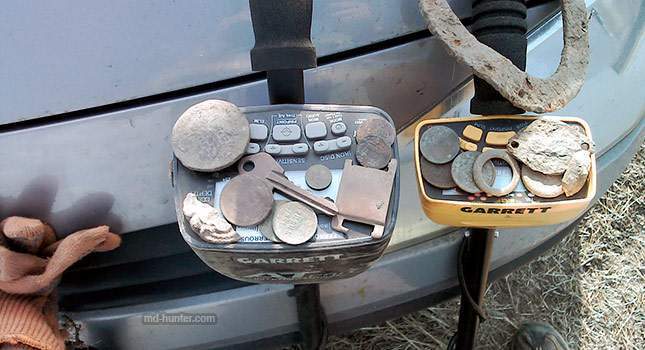 When buying the Garrett AT PRO I didn't expect magic: it's simply a new machine that has more capabilities. But I haven't forgotten my old ACE 250 at that. I often take its bright armrest. It makes the detector more visible on dark ground, and I won't tread on the armrest while digging up a hole.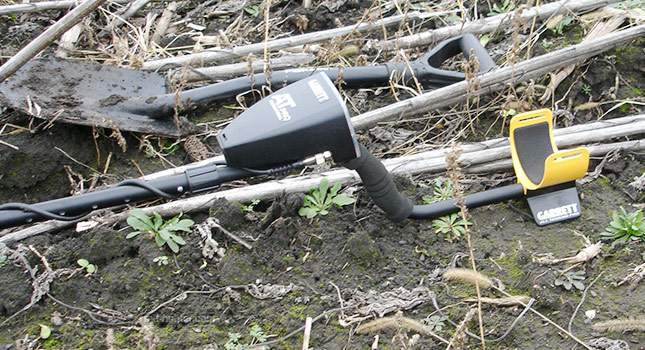 My ACE 250 also often turns into a guest detector for the friends that would like to try metal detecting, but haven't bought their own machine yet. I counted once how many friends had started with my ACE 250 and then bought their own device… In just a few years, this ACE 250 gave the world 24 newbies!

Tip for those ACE 250 owners that wish to buy a new metal detector… Try adding a second 12-15 inch coil to your ACE 250. Maybe purchase of a new machine will be postponed for 1 or 2 years.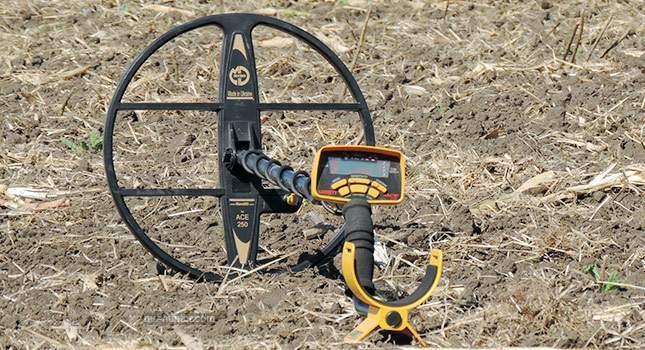 Recovery speed test. Garrett ACE 250 vs Garrett AT PRO
All about the Garrett AT PRO metal detector is collected here (news, videos, tests, comparisons), and on Knowledgebase pages (specs, features, search coils, manual). The info on the Garrett ACE 250 is here and here.
WATCHING NOW