It's really a shame that the MD-Hunter blog didn't exist in the '60s. We would have known for certain who and when was the first to make (and set to launch for sale) a pinpointer. As now it is anybody's guess… Garrett, Fisher, or White's? Today, any serious MD manufacturer has at least one probe in its lineup. Interestingly, it is not so simple to make a pinpointer. For instance, Nel promised to manufacture a super probe but failed. XP has managed to produce its pinpointer just now. Besides, this year (2017) we have seen 5 new devices at once: the XP MI-6, Minelab PRO-Find 35 / 15, Tenetics Tek-Point, and Fisher F-Pulse. Do you know what unites them? Great depth and ability to withstand submersion.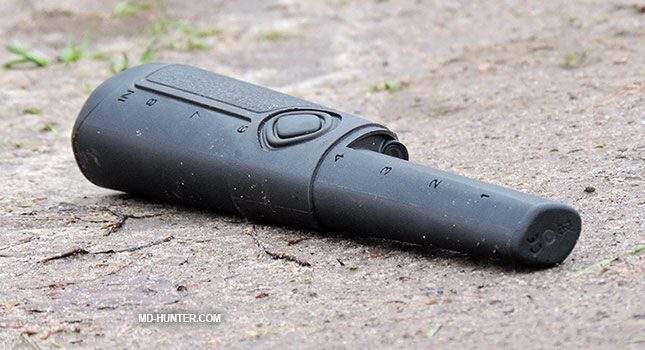 3 sensitivity levels, various responses namely audio, vibration and mixed, dynamic mode, LED light, lost pinpointer alarm, auto-off feature. Single button operation and 2 AA batteries power supply. Has 2 rulers, in inches and centimeters, molded into its exterior. Submersible up to 3 meters. Able to work in salt and… cold water. The latter is great – I didn't see that sort of feature before. But maybe other probes back down from cold water challenge, and we aren't aware of it? What can you say about it, Minelab?
Being a helpful tool for metal detecting, a pinpointer, by virtue of its nature, must save time while hunting. You should take the unit, switch it on, stick it into a hole, pick up your find, switch it off and go searching further. And that's all! If something in this algorithm works differently, you get wasteful spending. Supposing you stuck a pinpointer into a hole, heard the audio response, but there wasn't any find. It was simply a false response. Personally I wouldn't take such a device even for free.

The same refers to the unit's detection portion. There are some pinpointer models with the area of detection concentrated around the tip only (+ a small area near the button, almost near the grip). The middle area along the shaft in such probes doesn't have sensors and therefore can't detect metal while searching. Simply said, you won't be able to scan the dirt plug with such a pinpointer in a horizontal plane – such kind of units have tip-point detection. I once tried to tell about it, but fans of such pointers were up in arms against me. Ok, let them use whatever they want, more finds for me ))
The Fisher F-Pulse features a 360 degree side scan detection area. I made a video that includes a mini test (a key as a test target at the end of it), the probe works as it is supposed to.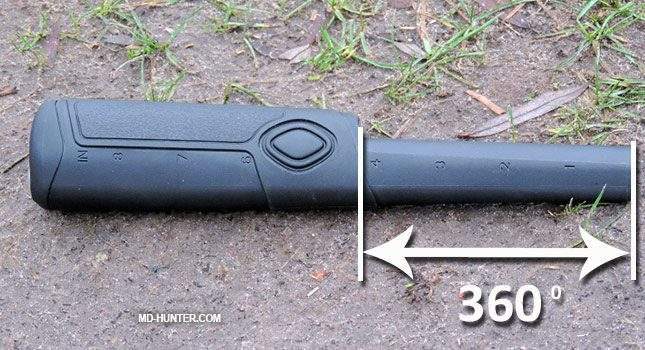 While searching with the Fisher F-Pulse – when turned upside down, knocked, submerged in water, or with the tip touched to the ground – I didn't notice any false responses. The pinpointer is perfectly stable and quiet, responding to targets only.
The Fisher F-Pulse sensitivity is impressive. For the time being, it's the most powerful probe that is able to pick up a silver tiny coin of Ivan the Terrible at a 6 cm depth. It's also sensitive to other super small finds and bits of aluminum foil.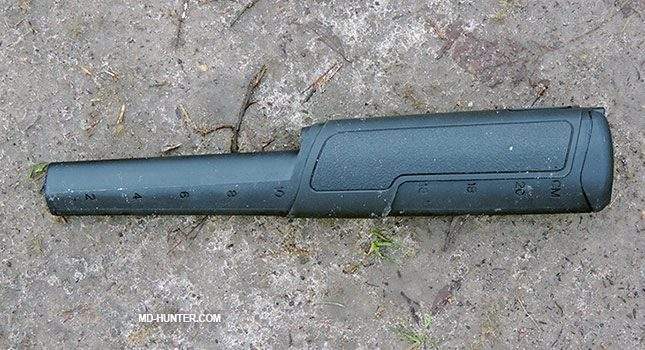 A pinpointer usually indicates the depth (distance to a find) by a dynamic response – it becomes more intense as the unit is moved closer to a target. Apart from the dynamic response, the Fisher F-Pulse has a fast retune feature. It works as follows: supposing the probe 'sees' a coin at a 10 cm depth. You move the device to a 7 cm distance, quick-press the button, and your probe is currently sensitive within this distance (7 cm) only and doesn't see deeper. That setting will be saved until the unit is off. There is an example of how it works at the end of the test video.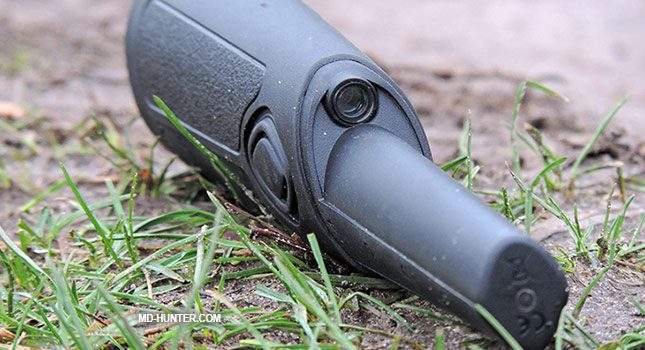 The Fisher F-Pulse can be used on land and underwater. A waterproof probe is really an advantage. For example, even if you go into the water knee-deep, sometimes it's very difficult to get the find out of the water. But if your pinpointer can withstand submersion, you can speed your searches by far. Also, you can wash your device under running water, continue searching even in the rain and work in the holes filled with water (helpful, too!).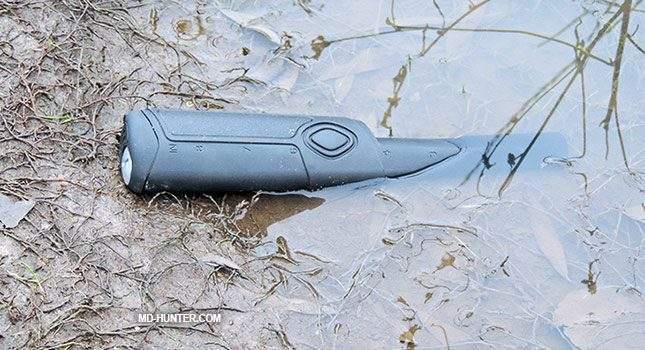 The idea of using the AA batteries to power the pinpointer is extremely practical. The metal detectors are also powered by these ones, so it is not necessary to carry around different types of spare batteries.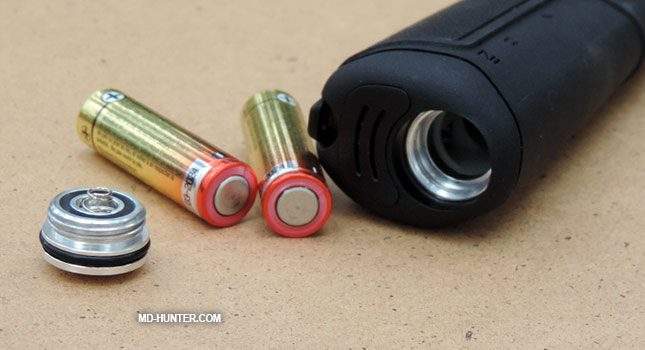 When holding the Fisher F-Pulse you feel a great reliability and strength margin. The pinpointer has rock-solid construction. Comes with a metal battery compartment screw cap with an O-ring. There is a lanyard attachment loop. The on/off button really seems to be of shell withstanding capacity – with each push you feel how reliable it is.
The Fisher F-Pulse weight (with battery) is nearly 200 grams. Actually, such weight for a pinpointer has already become standard – up to 250 grams. You think it's not important? There are the Chinese probes weighing more than 0.5 kg in the market. Do you want to hunt with such a 'dumbbell'?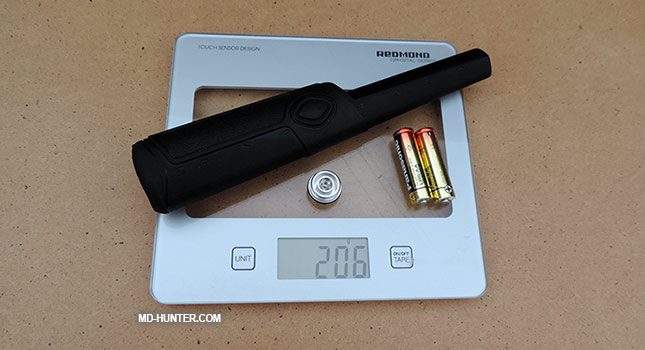 Having spent two outings with the Fisher F-Pulse, I haven't seen any drawbacks and have the highest positive opinion with regard to this unit. I also wanted to add the info about the battery life, how long it is. However, after two outings the batteries haven't run down. Probably it is a case of 20+ hours of constant power supply. Further practice will show.
All about the Fisher F-Pulse is collected here (news, tests, comparisons, reviews and opinions). Plus, on special Knowledgebase page there is additional info on this pinpointer (specs, features, and much more).

WATCHING NOW