No matter you want it or not, but pinpointers have increasingly greater depth capabilities. The joke about the probe that can surpass some low-cost metal detector equipped with a 7-8 inch coil is not a joke anymore, but a reality. And above all, when they tried to increase the pinpointer's detection depth before, it resulted in lots of false signals, hence turning the device from a helpful tool into the one that is a pain. But now, some metal detector manufacturers have got an increased depth and stable operation provided at the same time. Here's a Fisher F-Pulse depth test. Do you find this depth good?
For those who don't want to watch the video (apart from the test, at the end of the video there is a quick test of the unit's detection portion and sensitivity adjustment by quick pressing the button), here's a table showing the depth/results: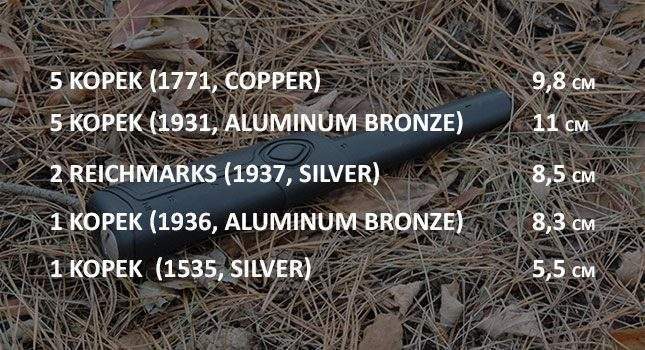 What do you think of this depth? I can't remember any other probe that could pick up a silver tiny coin of Ivan the Terrible at a 6 cm depth. Those who have the Garrett ACE 250 with a stock coil can try to perform a test with such a small coin as an experiment.
All about the Fisher F-Pulse is collected here (news, tests, comparisons, reviews and opinions). Plus, on Knowledgebase pages there is additional information on this pinpointer (specs, features, and much more). Happy Hunting to everyone!
WATCHING NOW