I have two tests for any pinpointer. If it can pass these ones, it's a true pinpointer. If not, even for free I wouldn't take such a device. Want to know whether the Makro Pointer has passed this test?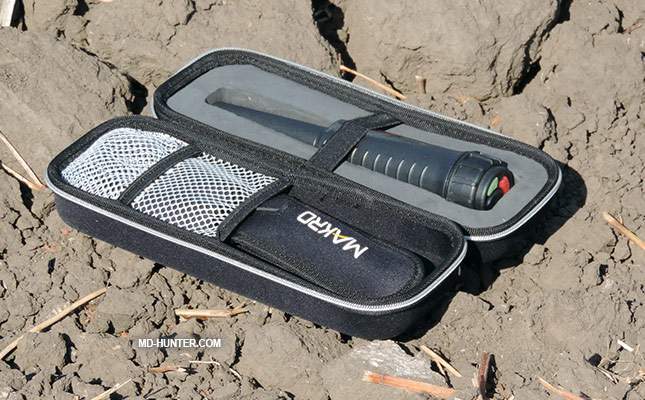 What I've liked. Have you seen the case the Makro Pointer comes with? Awesome! I've made a metal detecting accessory of it for myself and put spare batteries, replacement coil bolts and other metal detecting sundries in it.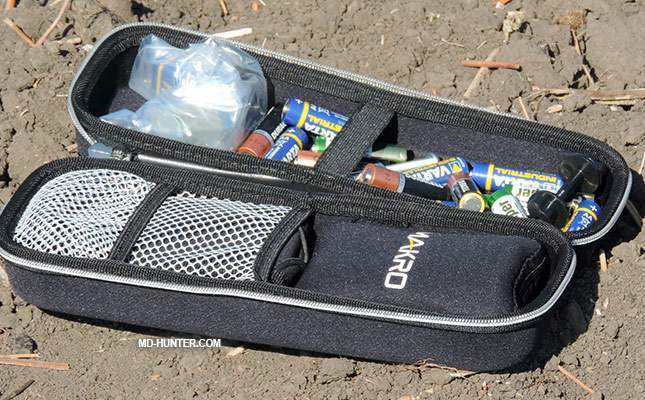 Pay attention, the case comes with a strap. There is initially a tie wrap on the latter – don't cut it! This tie wrap can then be used to fix the coil cable on the shaft.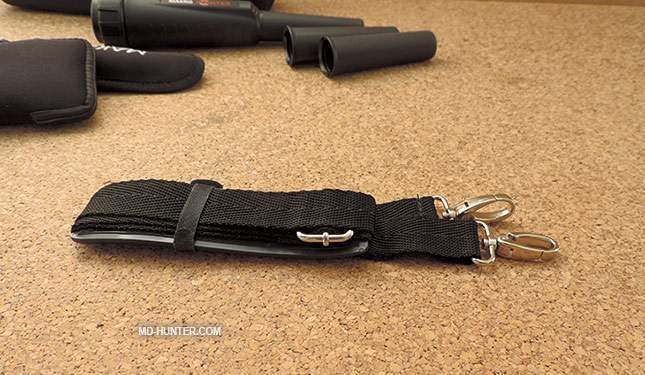 No opinion yet. Do you know what primarily breaks down in the pinpointer? It's a button. In usual pinpointers the buttons are located on the side of the housing. It is more convenient to control the unit with the help of these ones. But their reliability also is decreasing.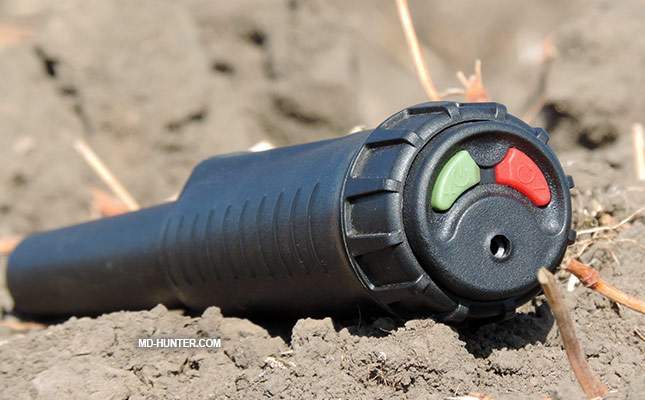 In the Makro Pointer the controls are located atop. There is an opinion that such location of buttons increases total reliability of the pinpointer. It may be so, practice will show.
But if you have experience with other pinpointers, you'll have to get used to non-standard location of buttons.
What I haven't liked. The Makro Pointer comes supplied with a soft sheath-holster. If there isn't another one, this sheath certainly solves the problem somehow. But it's awkward to get the pinpointer out as well as push it back one-handed.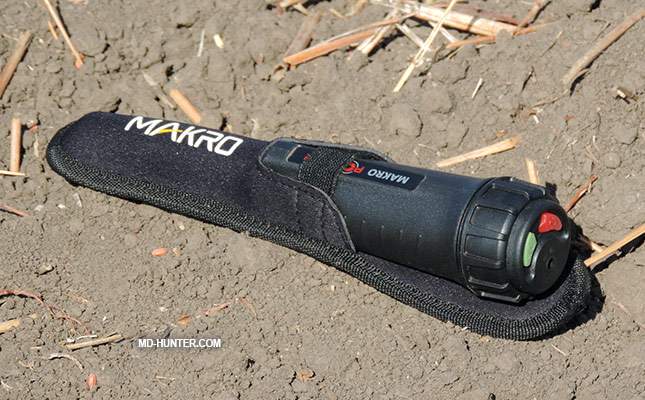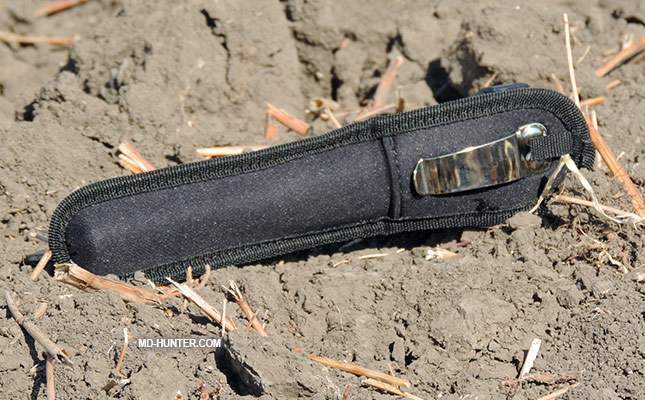 There exists tried and true classics – a hard holster. So far I haven't seen any better than this. It has a reliable belt attachment (doesn't come off the belt when you get the pinpointer out). Such holster can be attached anywhere (to the belt, backpack and even metal detector armrest). It has a ring for the lanyard. And most importantly, you can easily get the pinpointer out of this holster as well as push it back one-handed.
What I haven't liked. The Makro Pointer has a delay when being switched on. I have already got used to this: I get the pinpointer out, switch it on… and, while moving it closer to the hole, the device is already working. But for all that, I don't like this.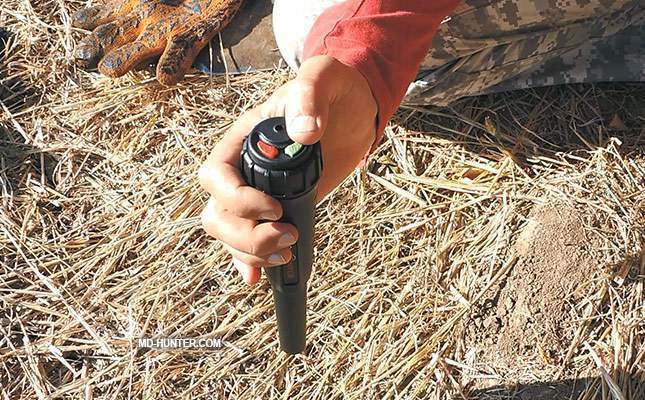 What I've liked. There is sensitivity adjustment. For normal soil conditions you can set maximum sensitivity. On salt sand or mineralized soils you should reduce sensitivity and continue hunting.
What I've liked. The pinpointer's LED flashlight can be switched off. How irritated I am by the flashlight that can't be turned off! In the Makro Pointer it can be off. Good!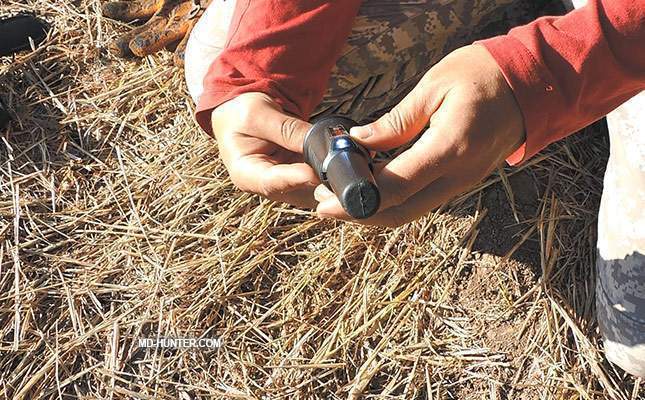 What I've liked. There are replaceable covers for the pinpointer probe. Two pieces at once. One is completely smooth, the other has a scraping blade for digging. The pinpointer probe is constantly getting scratched, if you don't take care of it – the problems will come very quickly. For instance, my buddy's Whites TRX probe has already had a fracture. He didn't care and got a problem.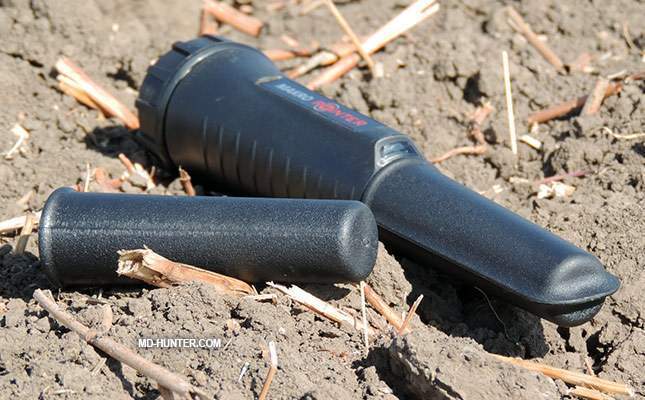 I have two tests for any pinpointer. If it can pass these ones, it's a really useful accessory. If not, I won't use this device. Even if I get it for free. I want to hunt, but not to sit over a hole thinking – what's wrong with my pinpointer. The tests are simple: it mustn't give false signals and the pinpointer probe must be operational along its whole length.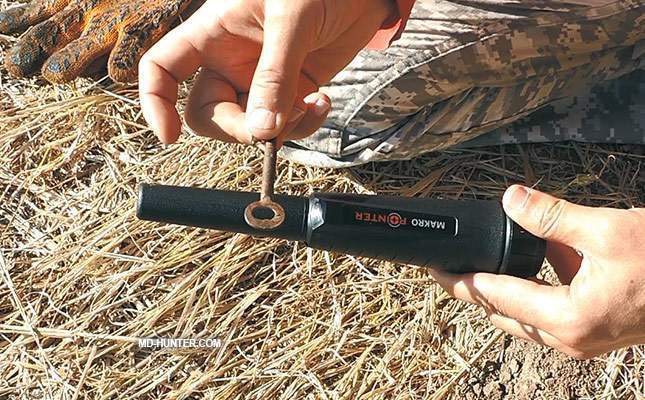 What I've liked. The most important thing is that at maximum sensitivity (4th level) the Makro Pointer works with no false responses. I don't want to sit over a hole trying to guess… is it a positive response? Or a false one? I want to take the pinpointer, switch it on, stick into the hole, pick up my coin and go searching further. The pinpointer must save time while hunting! If there are false signals, the pinpointer starts encroaching upon this time. So, at maximum sensitivity the Makro Pointer works as it should. Great!
What I've liked. The Makro Pointer probe is operational along its whole length and sees a target (say hello to the Whites TRX which isn't capable of doing that, watch the video here).
All in all, I've liked the Makro Pointer. It's a real pinpointer truly capable of helping the Hunter to pick up his find. Thus we'll be hunting and practice will show. If something happens with this pinpointer (or the latter shows its other capabilities), you will find all of this in MD-Hunter Blog.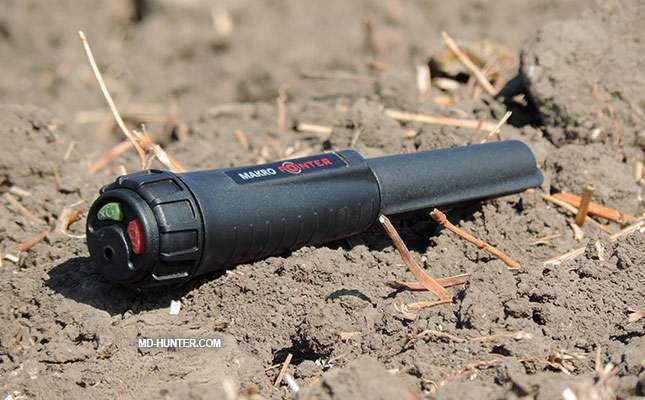 You can see features, parameters and other posts related to the Makro Pointer here, Wiki for a Hunter. Good finds to everyone!
WATCHING NOW