On the one hand, it's a usual comparative test of the Minelab Pro-Find 35, XP MI-6 and Garrett Pro-Pointer AT probes. All three of these units can be submerged in water, are relatively new (fresh models) and have won definite recognition from treasure hunters. Deservedly or not, this is of no interest to us at the moment. It's the other side of the coin that is of interest. The XP MI-6 is very often called the extra deep device. But it doesn't fully reflect the actual situation. Yes, the probe is deep enough, but not so deep that you overpay for it. Moreover, you should be aware that even the most expensive (feature packed, recognized, widely promoted etc.) pinpointers can miss targets. Are you surprised? Take a look at this short test – very informative, +25 to any detectorist's karma guaranteed.

For those who don't want or can't watch the video. If you get an opportunity, it's a must see. Among other things you can view some interesting moments there, when the probes miss (can't see) small finds. Every pinpointer owner should know about it and not be afraid if such things happen.
The summary table displaying the depth test results. Comparison of the pinpointers: Minelab Pro-Find 35, XP MI-6 and Garrett Pro-Pointer AT.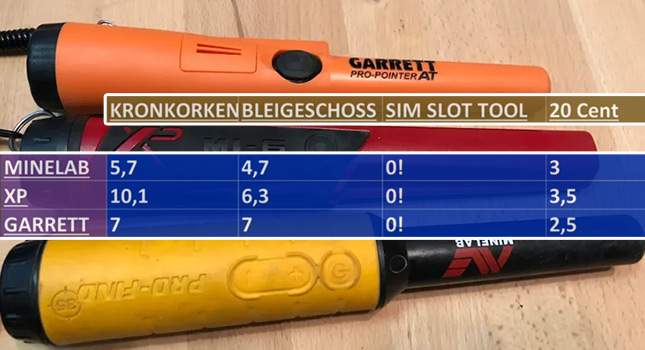 There is a lot of different information here in the blog, but it's always easy to find what you need. The subjects are divided into categories, each post is accompanied by tags. For example, all posts related to the Minelab Pro-Find 35. Or, all posts related to the Garrett Pro-Pointer AT. Also, on Knowledgebase pages you can find a separate section dedicated to pinpointers and mini metal detectors. Take a look at how everything is sliced and diced there.
WATCHING NOW