White's has its oddities… The company's logo is regards from uranium mines. White's technologies are very cool, however, their detectors aren't considered the best. Maybe the fact of the matter is that they go on a hunt in a limo?
The history of White's metal detectors is different from its competitors… It was the mid-20th century, the height of the Cold War between the U.S. and the USSR, the arms race. The company's founder Ken White saw the need for devices to prospect for uranium ores. And White's first devices were not metal detectors.
The year 1956. The WHITE'S OREMASTER series of prospecting devices appeared. It was nearly fifteen different units capable of detecting magnetic field changes, beta and gamma rays, as well as indicating the type of mineralization.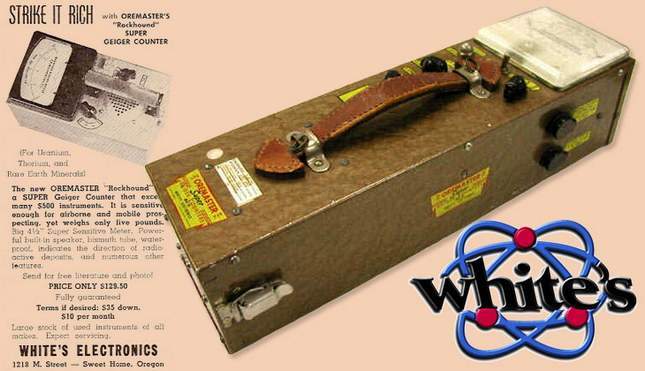 From this beginning came White's logo – an Atom. It's tremendous fun: although I was aware that White's had emerged from uranium mines, but I never understood the meaning of their logo ))
Ken White started his activity almost simultaneously with Grandpa Garrett, but began production of metal detectors after only 8 years. People stopped buying the uranium prospecting devices, it was necessary to look for an alternative.
White's first metal detectors could detect both metal and… ground mineralization. Actually those were very simple devices with one potentiometer. Their type of circuit was called a BFO.
The year 1967. Mass production of a WHITE'S GHOST TOWNER metal detector launched. The device came with a novelty – a completely waterproof searchcoil.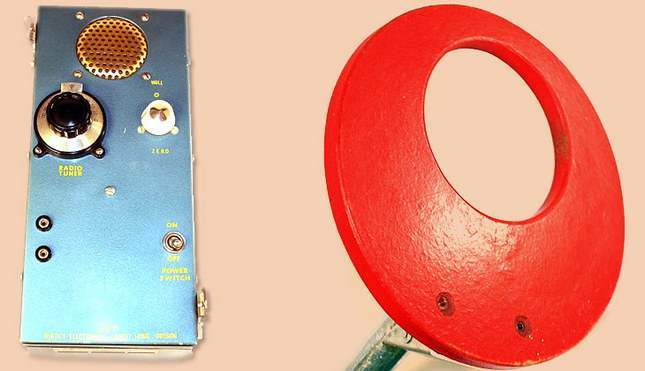 The year 1976. A WHITE'S MINI MASTER metal detector appeared. It's hard to believe, but it was a high frequency device! Operating at a 100 kHz frequency and weighing… only 680 grams.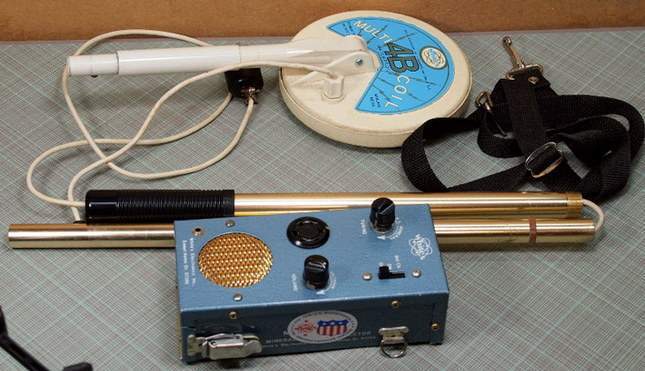 The year 1978. A new WHITE'S COINMASTER 2DB series came into being (this one also exists today – the White's Coinmaster and White's Coinmaster PRO, the manufacturer announced them as the Garrett ACE killers). Its novelty lay in an attempt to introduce a ground balance feature.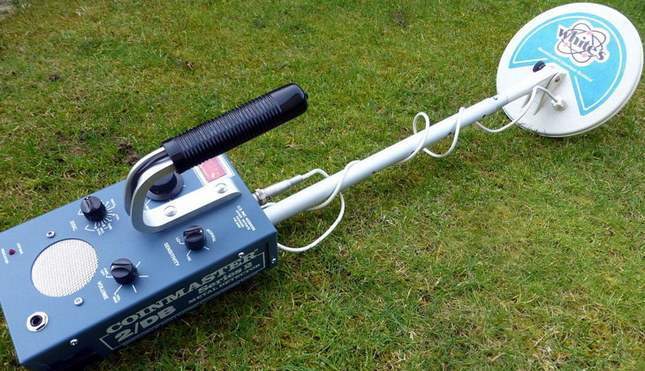 The year 1986. Introduction of a WHITE'S EAGLE metal detector, it was on top of technology in those days… Variable discrimination with a VDI readout. Variable target tones. Automatic ground balance. Screen with backlight.
WHITE'S is the real manufacturer. Why hasn't it become such a large one as Garrett and Minelab? Maybe they spent all of their money on high living? Going on a hunt in a limo is cool! ))
There are a lot of interesting things in the history of metal detectors! All about old machines is collected here. Want to see what they looked like before we were born?
WATCHING NOW