Counterfeit Golden Mask machines made in China have already gone on sale. The dealers selling original detectors name fake ones the electronic junk. Is that so? For example, fake Minelab GPX units from China are real remakes of calculators. Although the same cannot be said of the Chinese Garrett ACE and Teknetics T2.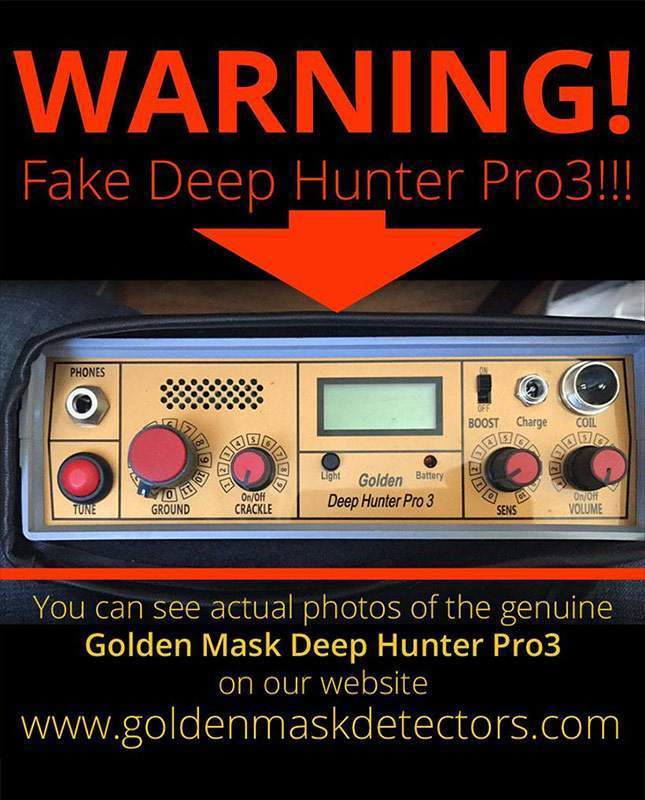 WARNING!

Fake Deep Hunter Pro3 on the Asian market!!! This machine has nothing to do with Golden Mask! Fake and quite different, but however there are people who buy it thinking they buy a Golden mask product! The fake Pro3 is advertised as «Made in Bulgaria», but it is not. Also, this junk is not even close to the genuine Pro3 in terms of performance.

Be careful where you purchase from! We suppose there could be even closer copies — same look, cheap electronics inside. See the original Golden Mask Deep Hunter Pro3 here: https://www.goldenmaskdetectors.com/deep_hunter_details.php?id=39&lang=en
On the one hand, if products are copied by Chinese counterfeiters, it means these ones are popular, recognized and of good quality. On the other hand, if Chinese set hands to a task, it means it's time for you to release the new products. Do you have any doubts? If the Chinese Garrett PRO-Pointer hadn't appeared, we would have waited for the Garrett PRO-Pointer 2 and Garrett PRO-Pointer AT for a very long time. The same goes for the Garrett ACE 200/300/400. Do you really believe that these ones are truly new detectors which do yield more finds than the Garrett ACE 250? I won't persuade you. You can consider the launch of Garrett's new machines a year after the Chinese Garrett ACE appeared a simple coincidence.
All Golden Mask news is collected here. All content related to Chinese metal detectors and fakes is here (the info about the Garrett ACE and Teknetics T2 made in China, photos of the devices, how to distinguish them, as well as the pics from a Chinese factory). Happy hunting to Everyone!
WATCHING NOW