The first China fakes I saw were the Teknetics T2 machines. A couple of years ago the manufacturer actually buried the T2… And now they are coming back.
A new Teknetics T2 has been announced. Now it is a T2 Classic, or alternatively, T2 Green – repainted a different shade, with reduced price. New again?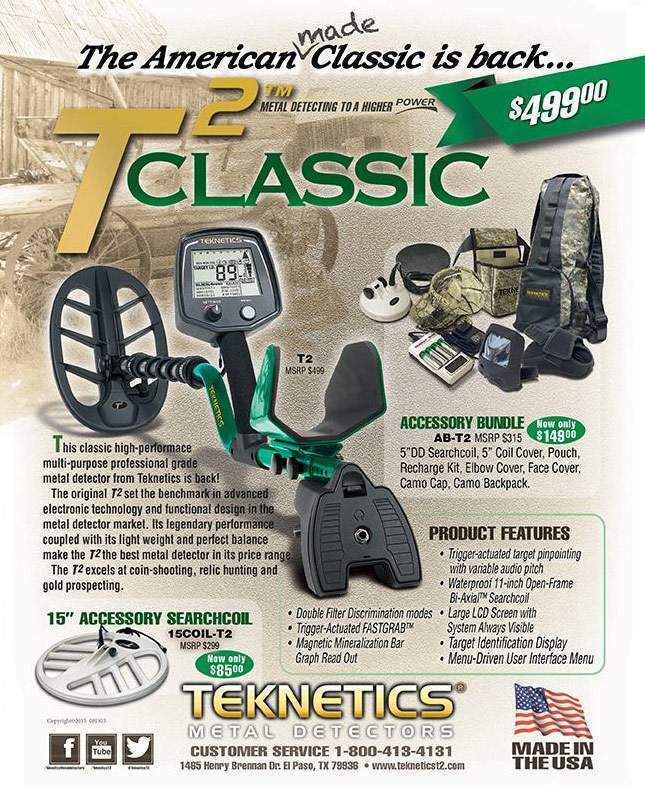 At first I thought that the price of $499 included what was in the booklet: a second 15-inch coil, backpack, charger, rechargeable batteries, covers, finds pouch, sniper coil as a third one… Yeah, dream on.
Rich gifts are given for separate money. A backpack with a sniper coil is worth $149. A 15-inch coil costs $85 (to my mind, it's a reasonable price for a large one).
I hope you know that the Teknetics T2 metal detector first appeared in 2005 and now this model is more than 10 years old. On one hand, the T2 platform is effective enough and works really well. On the other hand, the number of T2 fakes in the world is off the charts. Besides, metal detectors based on the T2 platform are being produced not only in China. There are T2 devices made in Bulgaria, Turkey…
Maybe Teknetics has sold its patent rights on this device long ago, but we don't know about it?
WATCHING NOW