Minelab in its advertisement often shows the Go-Find on the beach… I also tested my Minelab Go-Find 20 on salt beach and was disappointed. All that is shown to us in advertisements – you will not necessarily get the same in practice.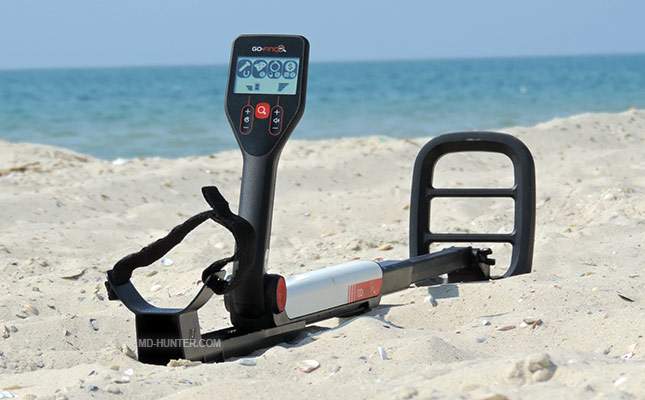 The first thing I saw after switching on the Minelab Go-Find 20 on dry salt sand was false responses when sensitivity was set to max.
The Go-Find 20 metal detector has three sensitivity levels. And it doesn't have any more settings that can compensate for the effects of salt. When I reduced sensitivity by one step (to the 2nd level), false responses decreased as well. They didn't disappear at all, but I could start searching at that second sensitivity level. Here and there, they were growing again, and when that occurred, there was nothing for it but to decrease the Go-Find sensitivity to a minimum.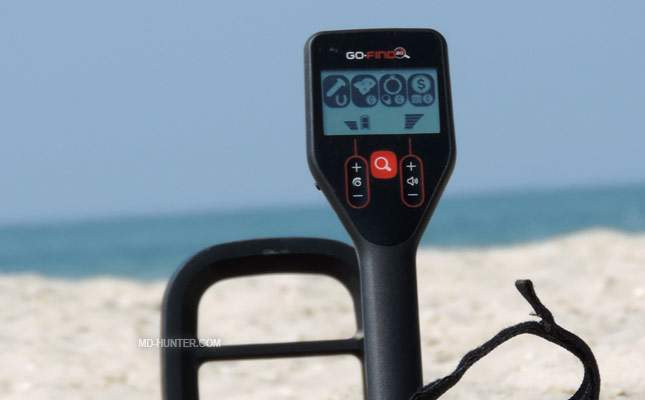 When on dry sand, the Minelab Go-Find 20 saw gold and silver perfectly. The response was strong and clear. But… The depth, at which the Go-Find 20 could detect those targets, was very little. I didn't have to dig at all, it was enough to scrape up the top layer of sand with my foot. Is it good or bad? It will probably pass muster for the beach. Here the targets are not deep.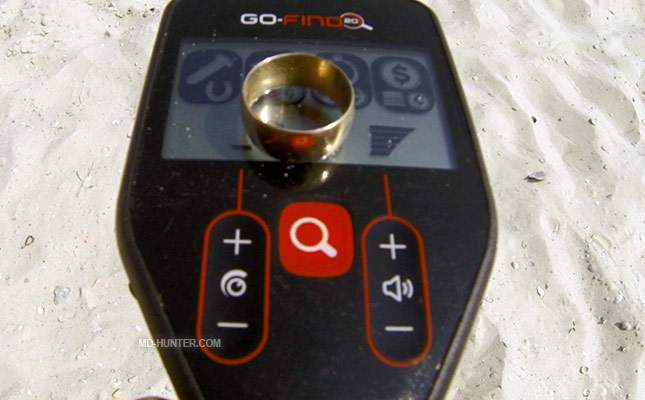 However, the Minelab Go-Find 20 has problems with saltwater… Any submersion of metal detector coil in saltwater caused a continuous stream of false responses. Decrease in sensitivity even to a minimum didn't take the false signals away (there were less of them, but nevertheless I couldn't have a normal hunt).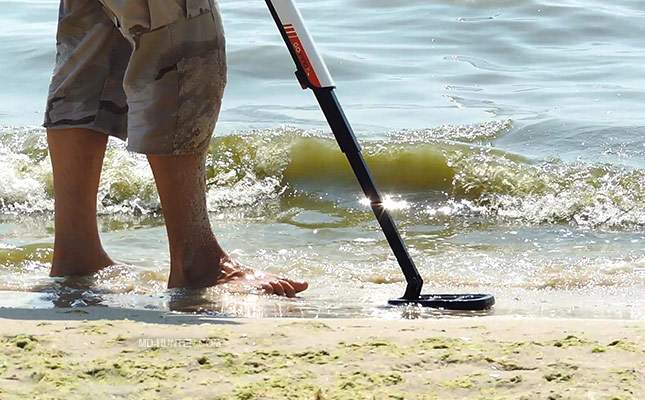 After submerging the coil up to the detector's mid-length I felt seriously anxious about the shaft. When swinging the coil under water I was just afraid the shaft wouldn't withstand and would break down.
And anyway, where there is sand, you should be careful about the Minelab Go-Find shaft (not only the Go-Find 20, but also the Go-Find 40-60). Sand gets into the shaft and, when folding it up, there is a chance to be left without the detector.
The construction of this model doesn't have a single metal component inside (want to see what's inside the Minelab Go-Find?). And as I understand, it is beyond repair. Good finds to everyone!
All about the Minelab Go-Find 20 is collected here (news, tests, comparisons with other devices, different reviews and opinions). Plus, on Knowledgebase pages there is additional information you should know before buying the Minelab Go-Find 20. The experience of others will help you save your time and money. Happy hunting to everyone!
WATCHING NOW