Who said that a new Tesoro detector would have a touch screen? You were waiting for it, and here it comes: a Tesoro Mojave, the new product 2017. Take a look at the first photo and video showing the Tesoro Mojave (and its price).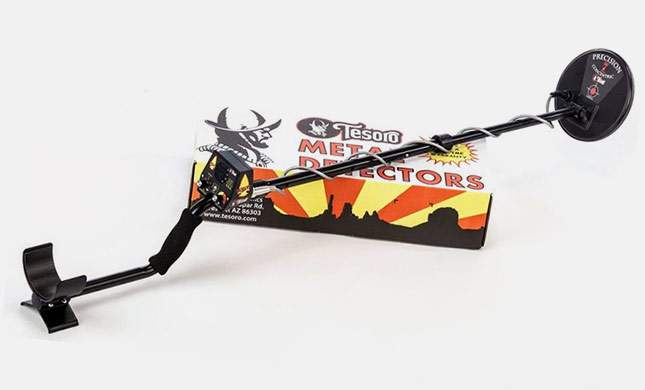 The Tesoro Mojave metal detector. Operating frequency: 12 kHz. Comes with a round 7-inch Mono coil. Power supply: 9V Krona. Adjustable sensitivity, discrimination. The Tesoro Mojave's distinctive feature is switching the preset ground balance (2 settings: normal and high). The detector is aimed at US customers. The price: $251.10.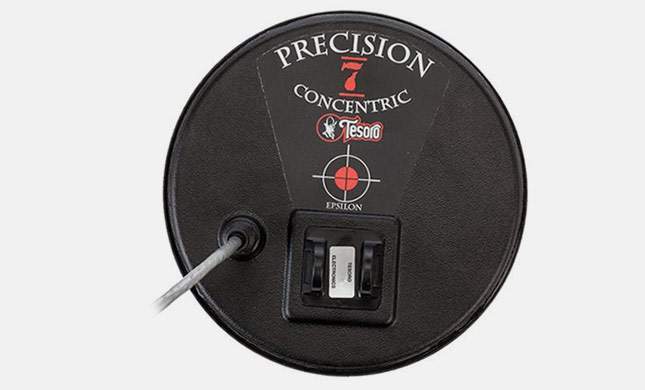 GROUND CONTROL SWITCH. The Mojave is a newly designed 12 Khz detector with 2 position HIGH and LOW ground condition switch for varying soil conditions. The Mojave will broaden hunting capabilities from coast to coast! In low to moderate ground conditions the LOW setting will gain more depth. The HIGH setting will overcome the worst ground conditions while maintaining smooth and clean target responses. From land to sea and deserts to mountains, the Mojave has the power and performance to tackle any type of changing ground conditions and soil types around the world!
MOJAVE'S NEW PRECISION 7. The Precision 7" featherweight and thin profile coil is the ideal size for tough trashy areas for jewelry, coin, ring and relic hunting. Lightning fast response and retuning allow the Mojave's 7" coil to surgically remove targets amongst the trash. Pinpointing is a snap with the new target centering reticle.
TRI-COLORED ZONES. New TRI-COLORED ZONES with easy identifying and adjustment in discrimination level. The Full Range 180 Discrimination covers everything from ALL METALS to screw cap rejection. WHITE, YELLOW and RED Zones from 6 o'clock to 4 o'clock for easy reference to the user.
Stealthy Black Micro Housing and Hardware.
Fully Adjustable Sensitivity.
HIGH/LOW Ground Selector.
Fully Adjustable Tri-Colored Zone Discrimination.
Waterproof Coil.
Featherweight 2.2 pounds.
Fully Adjustable rods.
?" earphone jack.
External Speaker.
9 Volt Battery for 15-18 hrs.
All Epsilon 5 Pin Coils Interchangeable.
Lifetime Warranty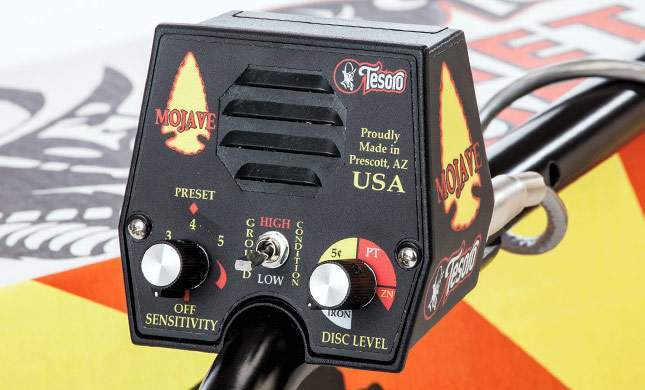 SPECIFICATIONS:
Operating Frequency 12 kHz
Searchcoil Type Round, Concentric
Searchcoil Size 7″ diameter
Searchcoil Family Epsilon
Cable Length Approx. 3′
Audio Frequency Approx. 630 Hz
Audio Output1 ?" speaker and headphone jack
Headphone Compatibility ?" stereo plug
Weight (may vary slightly) 2.2 lbs
Battery Requirement One 9 Volt DC (alkaline)
Battery Life (typical)15 to 18 hours
Optimum Temp. Range 30° to 100° F
Optimum Humidity 0 to 75% R.H.
Operating Modes Silent Search Discriminate/ED 180, High/Low Ground Condition Selector Switch
Tesoro Mojave: Monte's Nail Board Test
Tesoro Mojave: recovery speed test
If there is further development of this theme and the Tesoro Mojave turns out to be an interesting machine, all related info will be collected here (or it won't).
WATCHING NOW