There is a special unpleasant thing about Minelab. You open a new metal detector box, start looking inside, and… have the first disappointment.
Box in a box. For the first time ever, I saw that from Fisher. Boxes often lose their new look during transport. But a shabby box in the shop window may not find its customer. The Minelab Go-Find 20 comes in a double box, whereas the Minelab Go-Find 40 doesn't.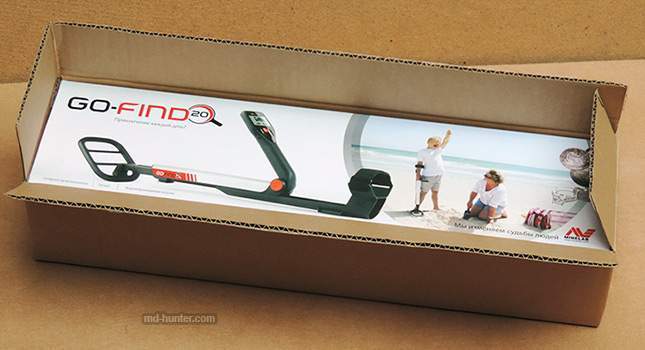 The manufacturer shouldn't have demonstrated so clearly that it's a children's toy. It was hard for me as a grown man to convince myself to take the detector advertised by a child and a woman… Furthermore, I know that Minelab has never been embarrassed because of its logo. However, on the Go-Find metal detectors the Minelab logotype is almost hidden.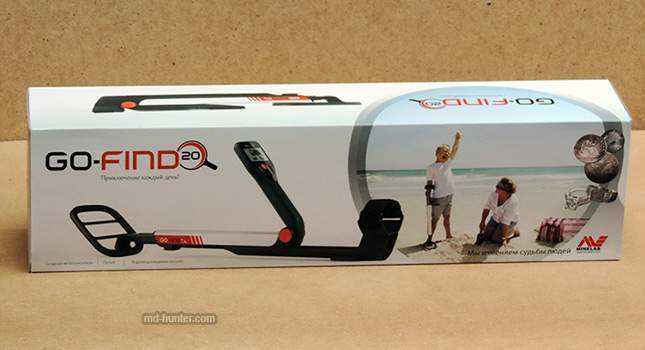 Of course, before buying I wanted to have a look at the device first. But the seller warned me: "you shouldn't unpack it now as you won't be able to put it back together again". So I took it without checking.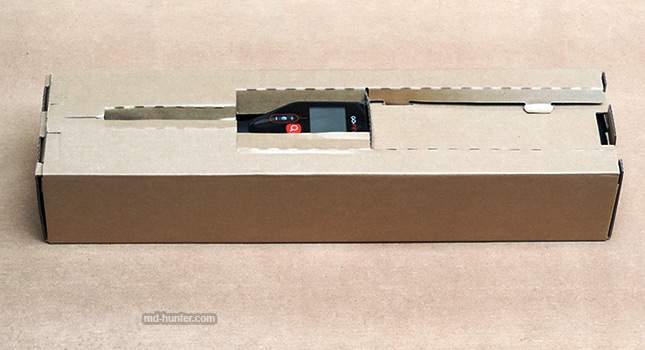 There is nothing complicated inside the package… As a matter of fact, there is nothing more except for a metal detector and a manual in this box.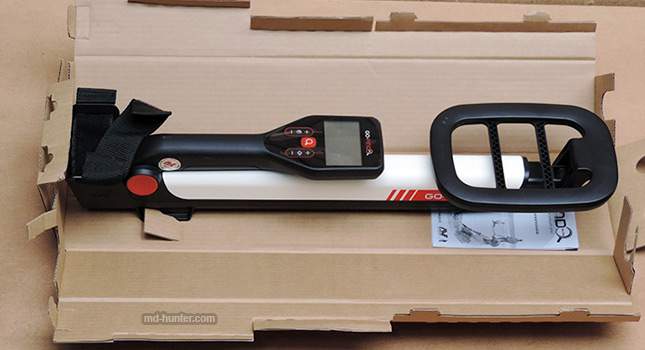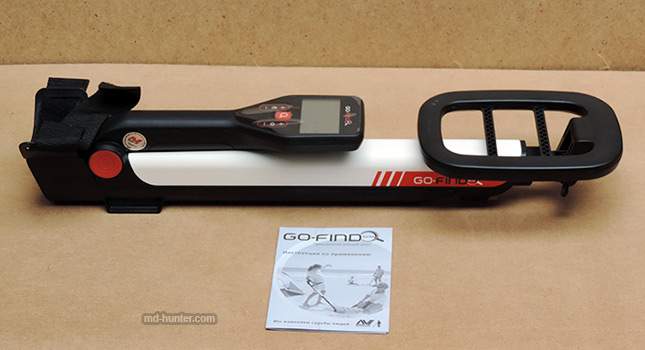 When you first take the metal detector in hand, what do you want to do foremost? I want to switch it on… But why Garrett and Fisher only do put batteries in the box with their metal detectors, whereas Minelab doesn't? It turns out that Garrett and Fisher know it's not allowed to spoil the first impression.
But Minelab think it's all done and dusted (you have already bought this machine); what comes next – that's your funeral. There are no batteries in the box, so you won't be able to turn on the detector at once.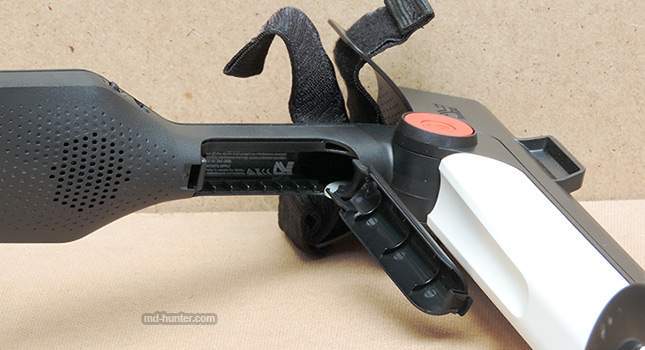 I'm setting up my experiment… I am wondering whether the Minelab Go-Find 20 will be able to get finds in practice. And I would also like to know if this machine will endure 2 months of hunting. So all the items this device will be able to find (as well as all the things that will get out of order) will be in this blog.
All about the Minelab Go-Find 20 is collected here (news, tests, comparisons with other devices, different reviews and opinions). Plus, on Knowledgebase pages there is additional information you should know before buying the Minelab Go-Find 20. The experience of others will help you save your time and money. Happy hunting to everyone!
WATCHING NOW